项目 PROJECT_ 里外之家 HOUSE OF INSIDE-OUT
功能 FUNCTION_ 别墅 VILLA
设计周期 DESIGN PERIOD_ 2015.05-2015.08
建设周期 CONSTRUCTION PERIOD_ 2015.08-2015.11
地点 LOCATION_ 上海朱家角 ZHUJIAJIAO, SHANGHAI, CHINA
建筑面积 BUILDING AREA_ 152SQM
团队 ARCHITECTS_ 肖磊 XIAO LEI, 白璐 BAI LU, 杨毓琼 YANG YUQIONG
合作方 COLLABORATORS_ N/A
类型 TYPE_ 室内、景观 INTERIOR AND LANDSCAPE
状态 STATUS_ 建成 COMPLETED
摄影 PHOTOGRAPHS_ 加纳永一 EIICHI KANO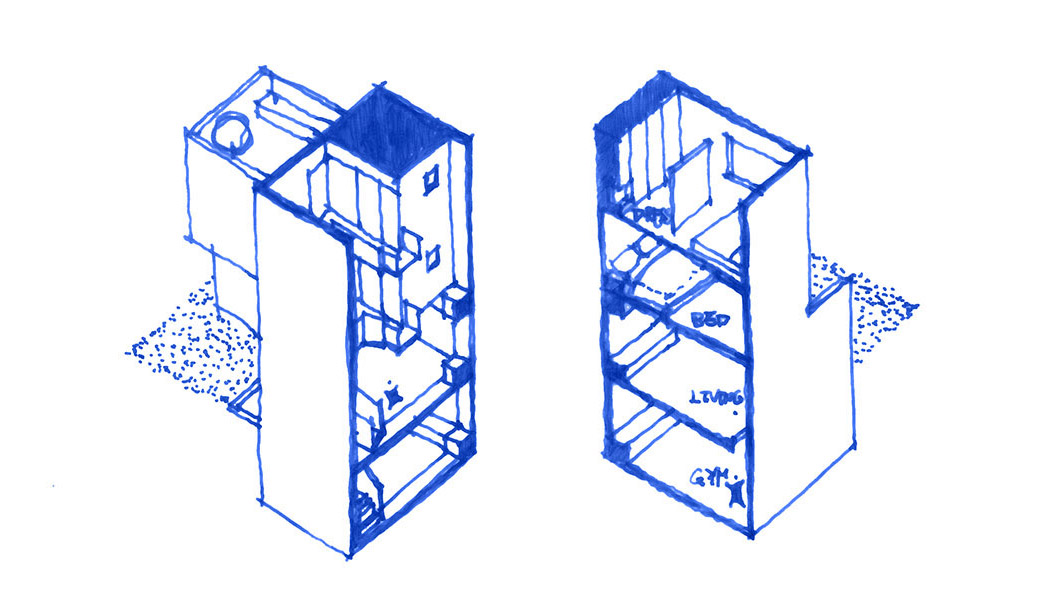 里外之家是一个位于上海朱家角的别墅室内设计的项目。传统的住宅空间总是各个楼层及房间相对独立,但在这样一个只居住夫妇二人、每层仅40平米的小型别墅中,我们想要尽可能的去掉不必要的楼板和门,让所有的空间都是联通的状态,以求塑造出新奇有趣却又丰富糅合的空间层次。
House of Inside-out is a villa project that located in Zhujiajiao Shanghai. The space of traditional house always separate each space with floor and wall, but in this project, there's only one couple living inside. That's why we want to demolish the unnecessary floor and door, to let all the space could be connected.
我们首先把整个别墅四层进行了纵向分割,将平面上处于户型中心的餐厅、楼梯及洗手间等服务空间归纳成"里"空间,并贯穿各层;南北两侧的客厅、厨房及卧室、书房等较大型空间则是"外"空间,整体动线缠绕于"里外"。
First of all, we cut the villa into three parts with longitudinal dividers. Organized restaurant, staircase and restrooms as the "inside space", up-and-down connected; the living room, kitchen, bedroom and study on the north and south side, those bigger rooms are classified as the "outer space".
里空间我们选择使用白橡木为主要材质,外空间虽然有着木材、铁网、涂料等多种材质,但全部统一成白色,让使用者能够充分体验到不断在两个空间中穿梭的感觉。
We chose white oak as the main material of the inside space, although the outer space has wood, iron mesh, paint and other materials, but all unified into white, so that users can fully experience the feeling of shuttling between the two spaces.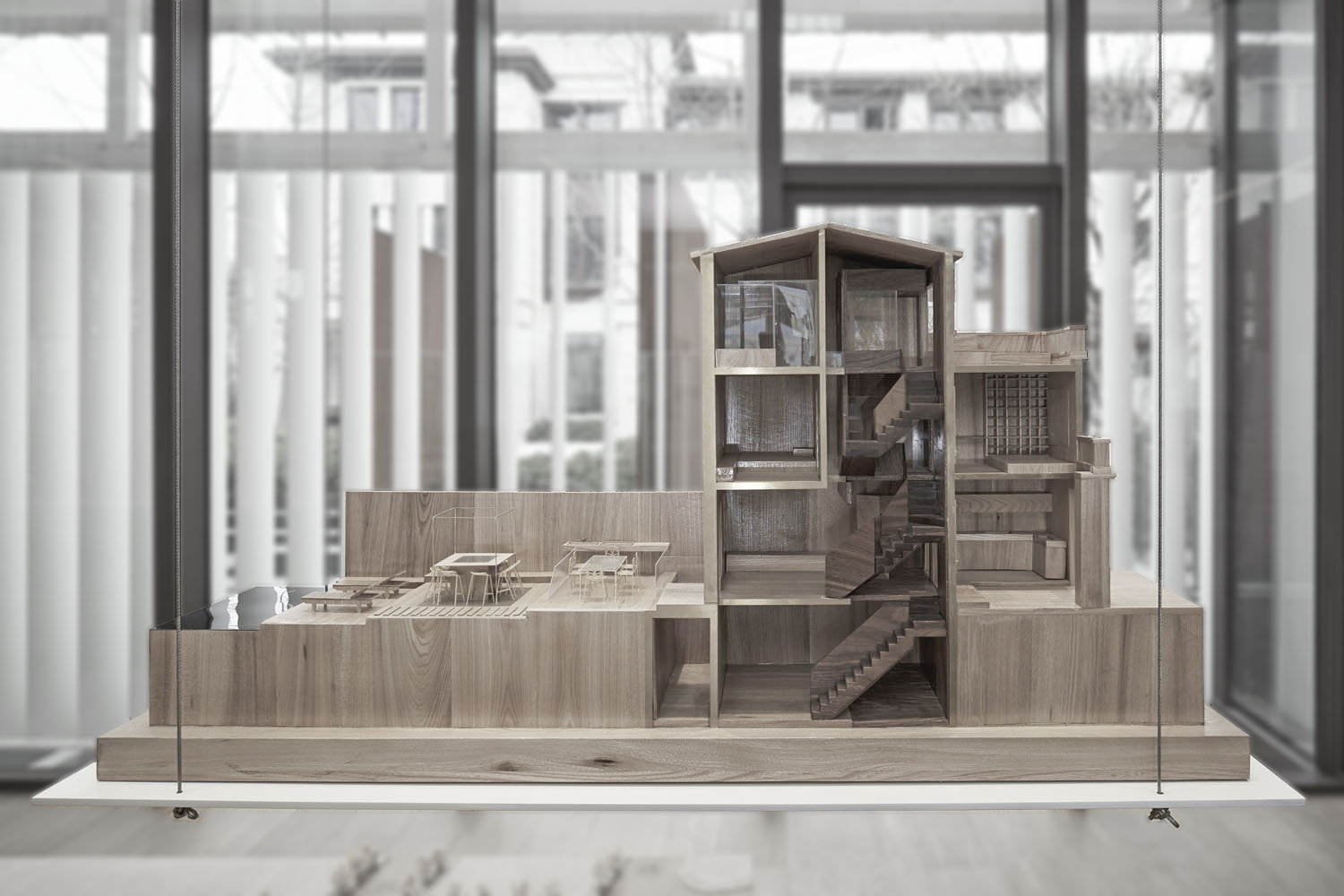 剖面上则力图在每层尝试小面积的挑空,打破各层楼面的区隔,将"里"和"外"用"桥"相连。站在"桥"上,视线可以穿透上下三层,期望通过纵向空间的引入,弱化每层空间相对狭小的问题。
On the section, try to empty small area in each layer, break the partition of each floor, and connect "inside" and "outside" with "bridge". Standing on the "bridge", the line of sight can penetrate up and down three layers. Through the introduction of longitudinal space, it is expected to weaken the relatively narrow space of each layer.
我们将地下室设置成小型健身房,两种色调将空间一分为二,分别对应不同的运动类型。此外,我们还为健身者加入了一种极具挑战性的上楼方式:将一面墙设计成了攀岩墙,去掉一部分楼板让攀岩者可以直接从地下室攀爬至一楼起居空间。而下沉式别院——这一真正意义上的"外"空间,通过自然天光的引入让原本闭塞无奇的地下室变得丰富温暖起来。
We set up the basement as a small gym, two shades of space divided into two, each corresponding to different types of sports. In addition, we also added a challenging way to get up the stairs for fitness workers: to design a wall as a climbing wall. Remove a portion of the floor so that climbers can climb directly from the basement to the living space on the first floor. Through the introduction of natural celestial light, the confined basement has become rich and warm.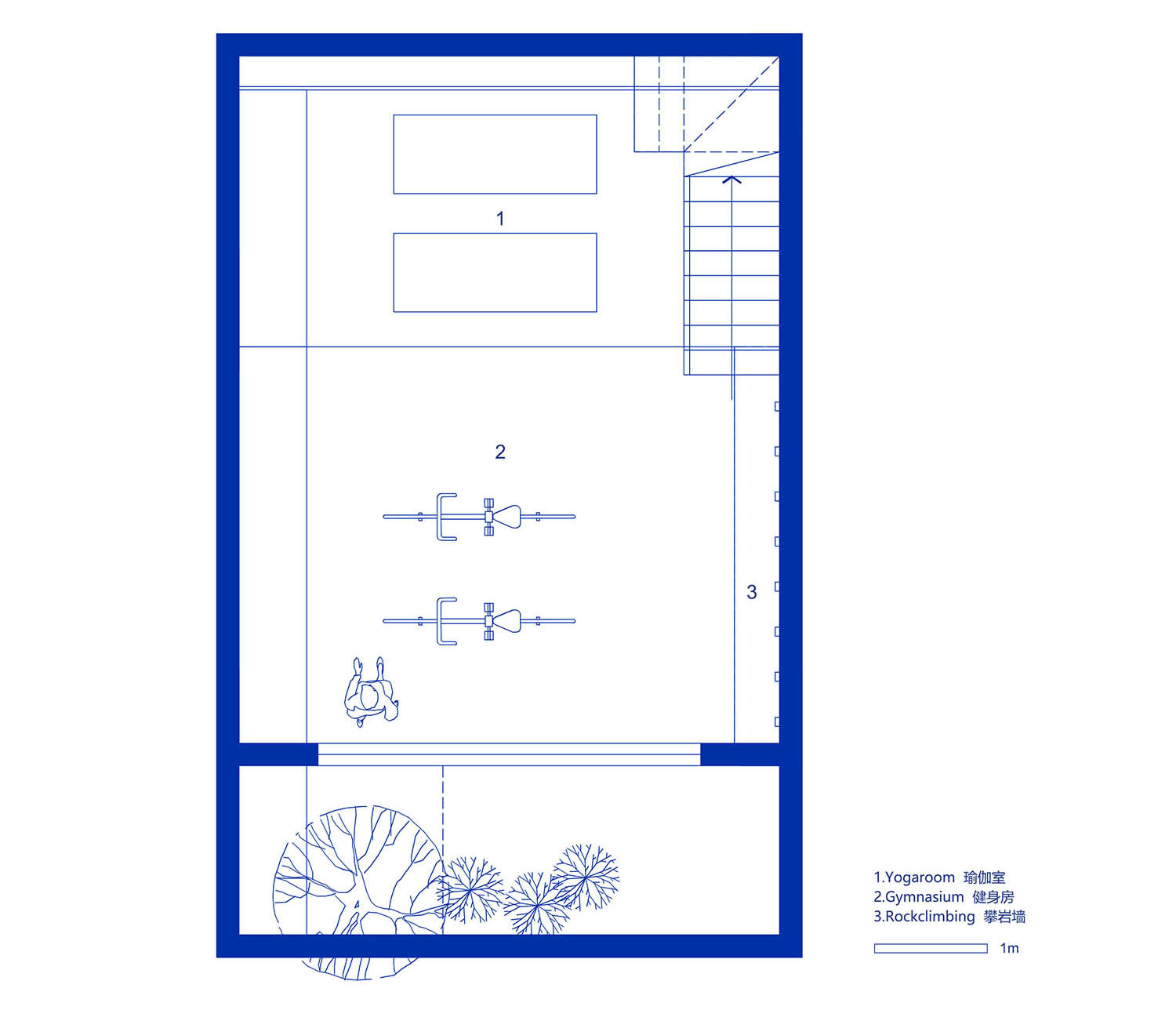 ▲负一层平面图 -1F PLAN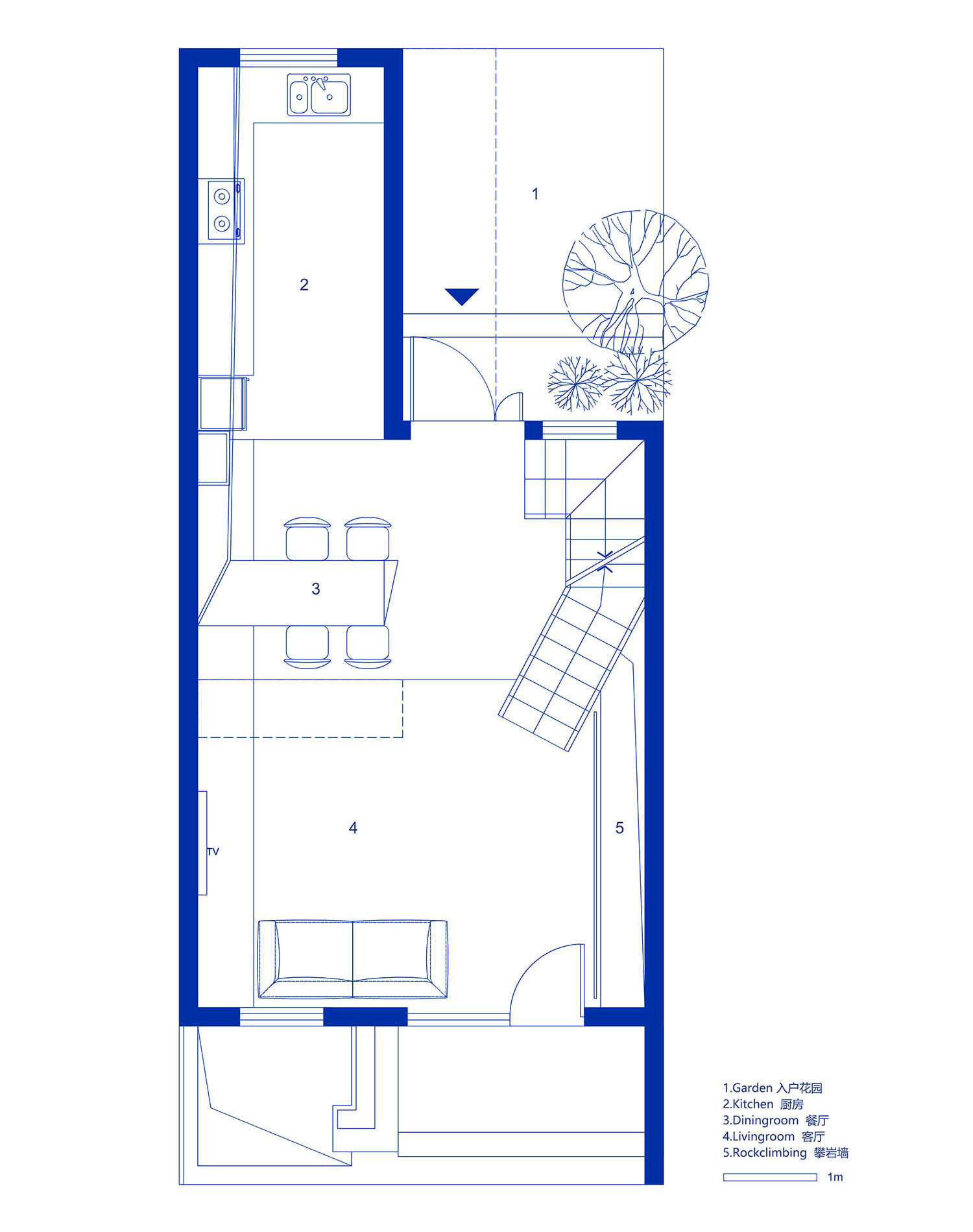 ▲一层平面图 1F PLAN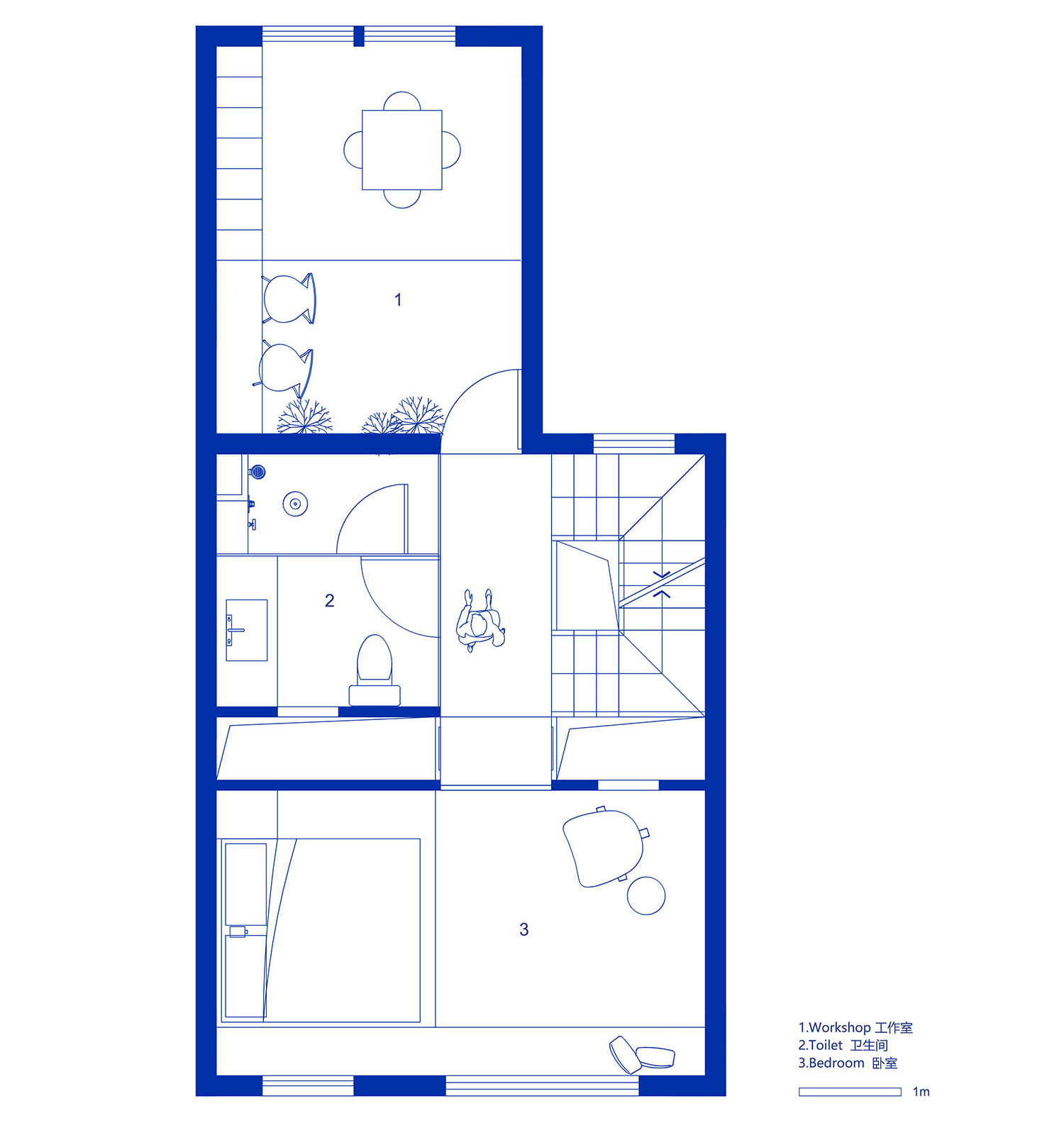 ▲二层平面图 2F PLAN
▲三层平面图 3F PLAN
▲剖面图A SECTION A