项目 PROJECT_ 角院 THE CIRCULATION
功能 FUNCTION_ 销售中心 SALES CENTER, 社区图书馆 COMMUNITY LIBRARY
设计周期 DESIGN PERIOD_ 2016.04-2016.07
建设周期 CONSTRUCTION PERIOD_ 2016.07-2016.11
地点 LOCATION_ 广东广州番禺榄核镇 LANHE TOWN, GUANGZHOU, GUANGDONG, CHINA
建筑面积 BUILDING AREA_ 1976SQM
团队 ARCHITECTS_ 肖磊 XIAO LEI, 金鑫 JIN XIN, 施懿媛 SHI YIYUAN
合作方 COLLABORATORS_ N/A
类型 TYPE_ 室内、景观 INTERIOR AND LANDSCAPE
状态 STATUS_ 建成 COMPLETED
摄影 PHOTOGRAPHS_ 加纳永一 EIICHI KANO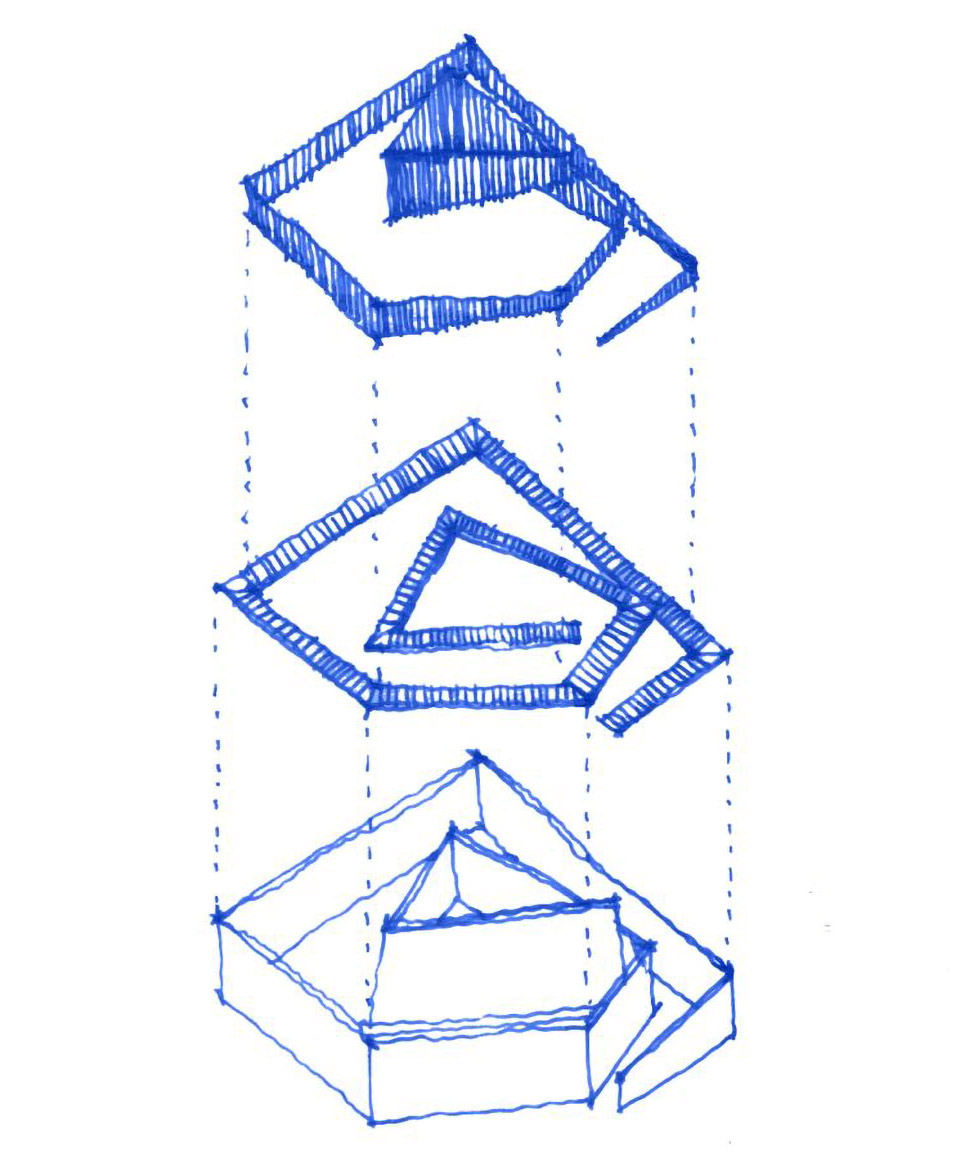 星海小镇销售中心位于广州番禺榄核镇,作为从市区驱车一小时至此看房的第一站,除了基本的接待销售的功能之外,创造更多可悠闲漫步、驻足停留的空间成为了本项目的出发点。
The sales center of Xinghai Town in Lanhe Town, Panyu district, Guangzhou is about one hour away from downtown. As the first stop of house-purchase tour, the main purpose of the project, except for initial reception and marketing, is to have a more spacious space for rambling and sightseeing.
出于这种考虑,间筑设计使用坡道作为设计的核心,用一条约300米的"散步道"几次穿越室内外空间,拉长动线,将各个适合停留的功能空间串联起来,模糊了一层与二层的界限,让人不知不觉地完成在这栋建筑中的旅程。
As such, the designer selects a ramp as the core architectural design. A 300-meter-long walkway weaves in and out the space to connect all recreation areas and build a fuzzy boundary between the first and second floors, thus you may be unaware of ending the visit.
旅程的一开始,访客将穿过一个精致的庭院到达画廊区域,并在艺术品的引导下至书吧区,坡道的部分形式转变为大台阶,成为一个可供人短暂休憩与阅读的场所。
At the first step into the building, you will get to the gallery through a fine courtyard. Along with the artwork display, you will be led to the book bar. The ramp is partially in the shape of a big stair for temporary resting and reading.
随后由坡道引导至多功能室与儿童娱乐区,此时已至室内二层的最高点,推开一侧的玻璃门可以直接走入三角形的中庭。一棵树、一片浅水与一条缓坡,最简单的几条折线围合成了一个令人备感平静的半户外空间,并通过对光线、取景、材质等方面的考虑,让室内外在视线上充分连接,形成空间与空间的对话感。
Along with the ramp is a multifunctional room and children's playground at a top position on the second floor where you can walk into a triangular atrium through a glass door in a circle of broken lines. There is a half-open space simply embracing a tree, a shallow and a slight slope. With light, sight and texture being taken into account, both internal and external spaces are visually integrated to have a visual connection.
自缓坡向下将回到一层的室内,此时旅程过半,来到沙盘区与洽谈区,8.5米的挑高空间将户外庭院的开敞感引入室内,作为小镇模型的背景。
Back to the first floor down the slope, you have mostly visited the whole house. In the scaled model and negotiation room, super-high ceiling stretching 8.5m upward develops a sense of openness as if you were outside, against which the town's model is erected.
旅程的终点则是迷你咖啡馆,二层书架的黑钢材质顺着具有雕塑感的大台阶延续至一层形成L形吧台,访客喝完咖啡后可从其侧门通往至样板间区域,在特定的交流会中,大台阶结合洽谈区可作为小型集会的场所使用,容纳将近200人。
You finally get to the mini coffee shop. Sculptured big stairs extend to the L-shaped bar counter on the ground floor, being covered with a black steel of bookshelf that cascades from the second floor. After taking a sip of coffee, you can enter into the prototype room through a side door. For a certain meeting, the big stairs and negotiation room can be used as a venue catering for nearly 200 guests.
坡道作为引导动线的主要元素,材质选用了颜色与质感都相近的木材,从室外延伸至室内,最大化的保证其延续性与整体性。室内空间辅以石材与钢材较为纯粹的材料与其相呼应,也与外立面形成了一定的对比。
The ramp, covered with wood materials of a similar color and texture, has a leading role in the whole space, which spreads from the inside to the outside to maximally secure its continuity and integrity. The interior is decorated with uncomplicated stones and steel to echo the main line and contrast with the external facade.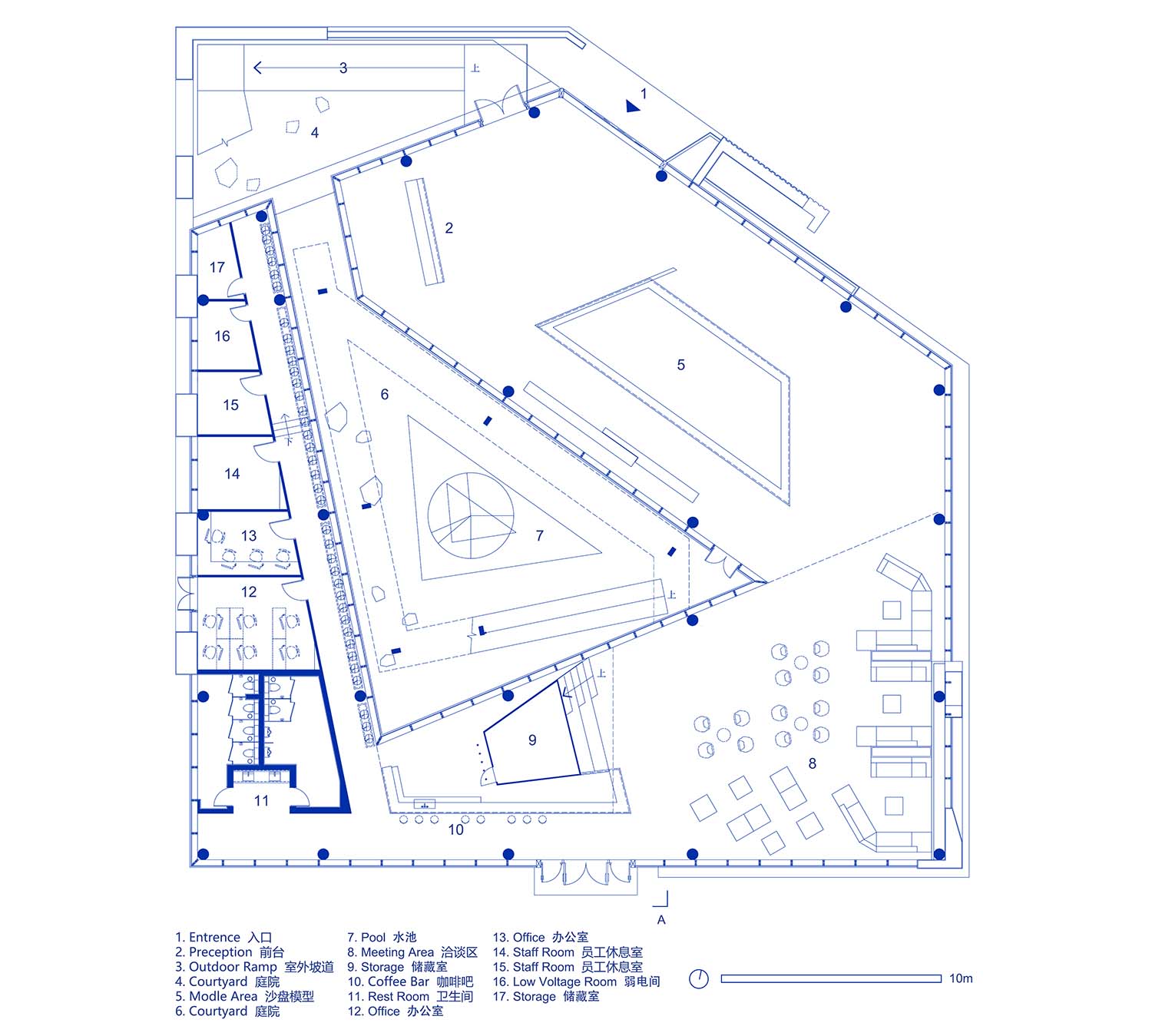 ▲一层平面图 1F PLAN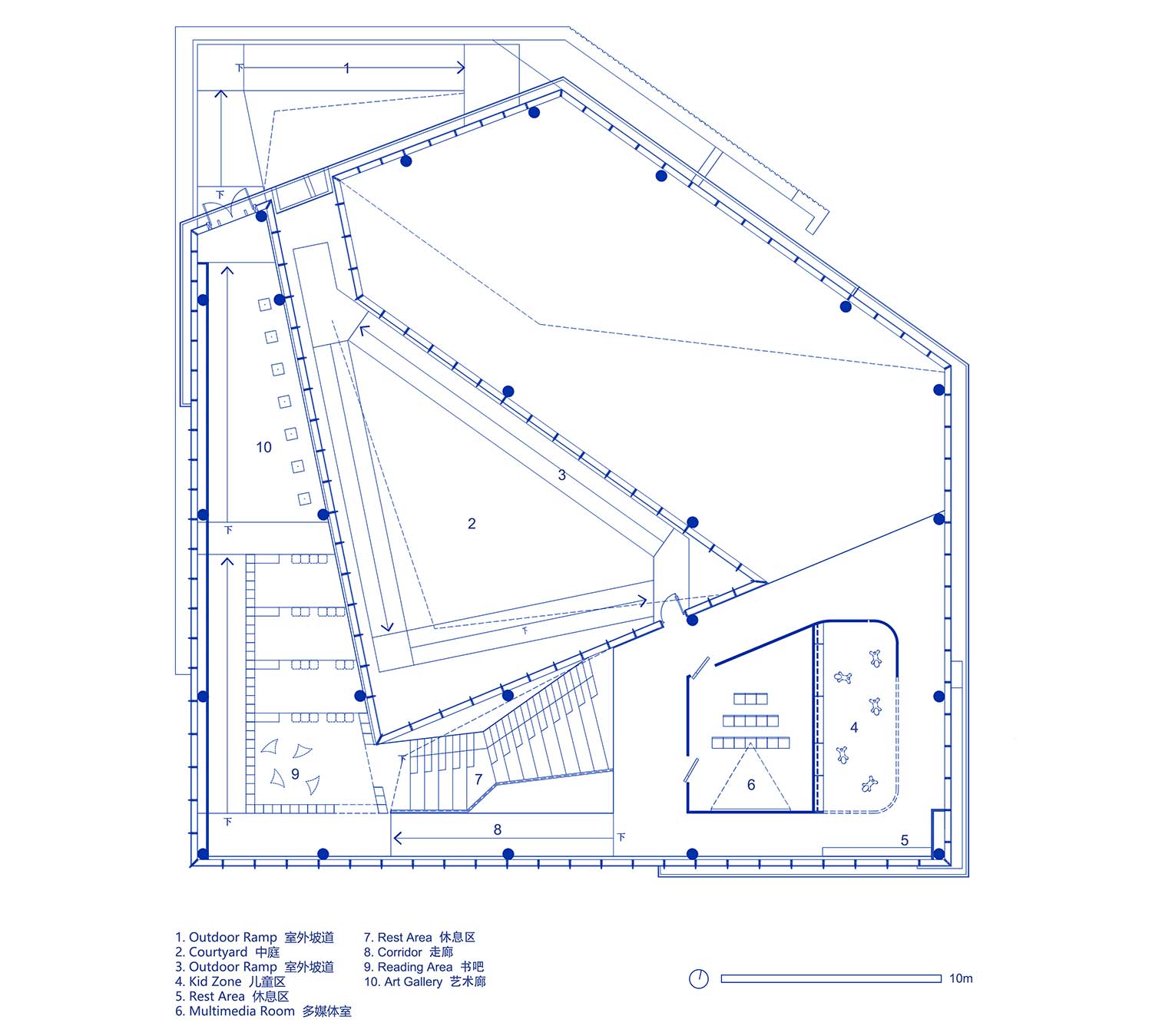 ▲二层平面图 2F PLAN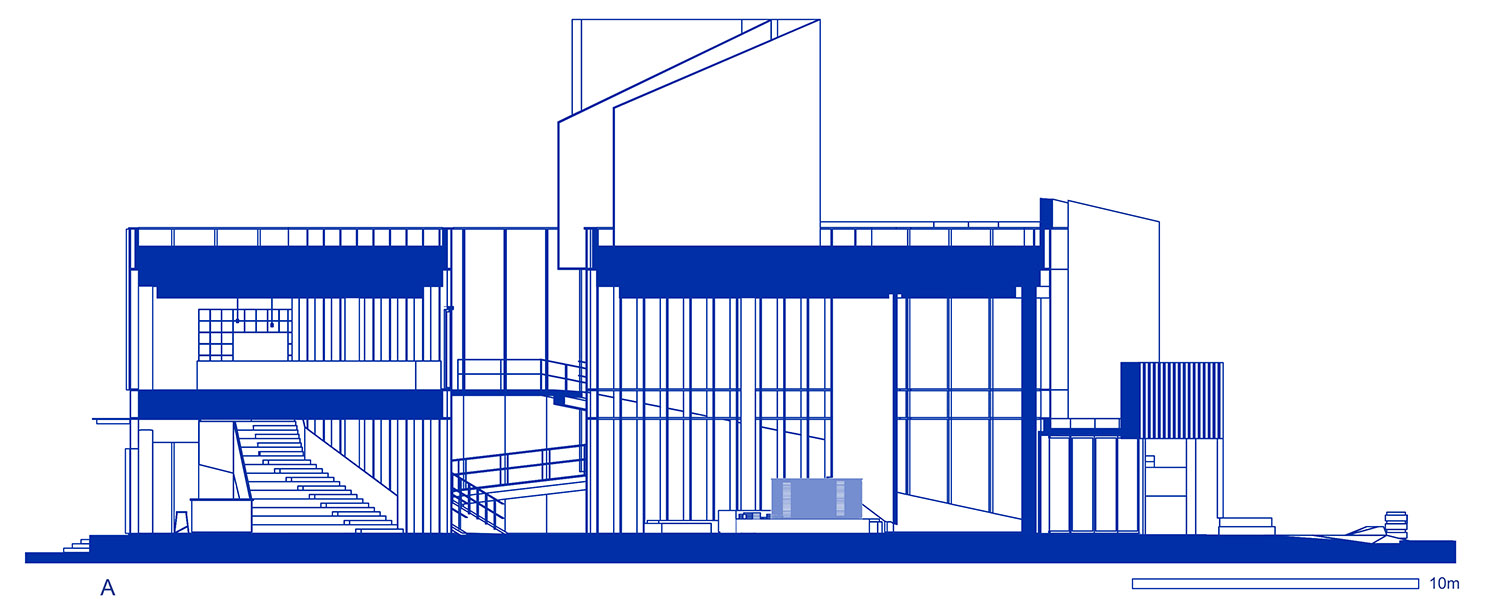 ▲剖面图A SECTION A