项目 PROJECT_ 焙廊 THE BAKER'S GALLERY_ZHUJI
功能 FUNCTION_ 烘焙店 BAKERY
设计周期 DESIGN PERIOD_ 2015.02-2015.05
建设周期 CONSTRUCTION PERIOD_ 2015.05-2015.08
地点 LOCATION_ 浙江诸暨 ZHUJI, ZHEJIANG, CHINA
建筑面积 BUILDING AREA_ 87SQM
团队 ARCHITECTS_ 肖磊 XIAO LEI, 金鑫 JIN XIN, VLADIMIR ZIVANOVIC
合作方 COLLABORATORS_ N/A
类型 TYPE_ 室内 INTERIOR
状态 STATUS_ 建成 COMPLETED
摄影 PHOTOGRAPHS_ 加纳永一 EIICHI KANO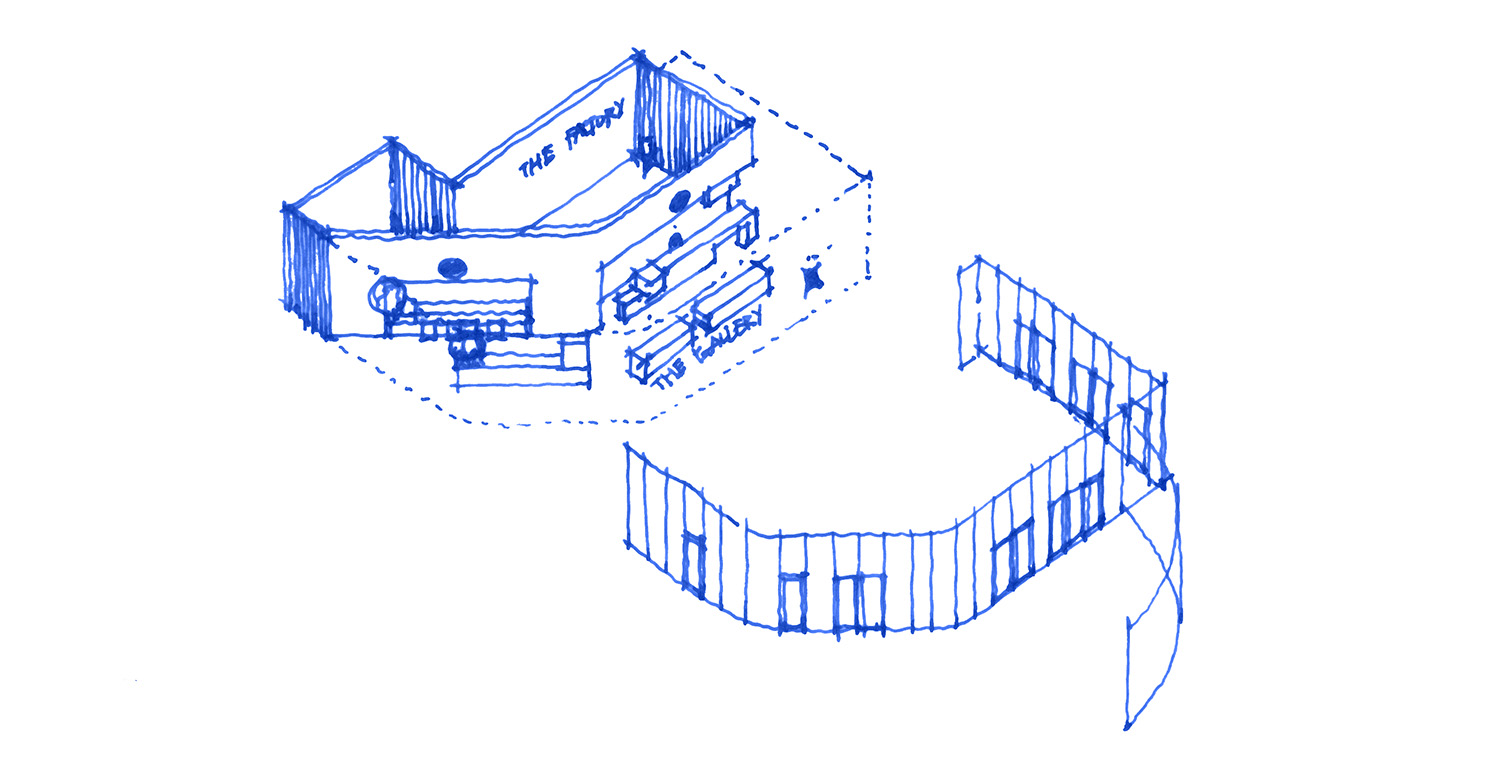 礼颂至品诸暨店位于商场内入口的一侧,店内面积适中,但却有着绝佳的270度的展示面。如何利用好这一现有优势,是我们此次设计的起始点。
Although in a moderate size, the Rizon Zhuji Shop enjoys spacious display area at the entrance of the department store. Thus, the design is firstly to maximize this advantage.
我们将食物本身作为店面设计的核心概念,借用了画廊的概念进行展示,通过270度半弧形的展示面呈现给顾客一个从面粉发酵到面包入口的烘焙故事。
Themed on the food itself, the designer is inspired by the gallery to shape a half-arc display of 270°which illustrates a process from fermentation to baking.
以店面一端的临街面为起点,通过后场的局部开窗,展现出制作区域的工作情景,结合橱窗内定制西点的展示,让路过的人们可以更为直观的感受到:这是一家烘焙店。随着顾客走入商场,烘焙店的落地玻璃让店内各处一览无余。步移景迁,在出货区,顾客可以看到由店员端出刚做好的西点;继而是陈列区,数十种产品排列整齐;最后是客座区,选择堂食的顾客在这里放松的享受美味。沿着店面的通透的玻璃外立面,数十米长的一段"路程",连接起了从烘焙的原材料到顾客大快朵颐的整个过程。
Starting from the frontage, the designer hollows out the wall and fills it with a shop window in which some customized desserts will be placed for direct viewing—this is a bakery. As consumers walk into the department store, the whole shop will leap into their eyes through floor-to-ceiling windows. Whatever you see changes immediately as you make a move. At the counter, consumers may have a look at whenever bakers serve fresh cake. Next, in the display area there are dozens of products placed in order. Of course, consumers may have a bite of cake and have a rest in the shop. Passing through the glass facade of ten meters, guests will get an idea of turning raw ingredients into sweet pastry.
由于我们了解到这家店以色泽丰富的蛋糕类产品为主打,所以在主要材质和基本颜色的方面,尽量力求营造出简单纯净的感觉,例如地面的白橡木、墙面的白色六边形马赛克、天花的发光膜,整个暖白主色调不仅让购物者感到温馨惬意,同时也让产品本身更好的成为了店面的主角。
Considering that the shop mainly sells cakes of all kinds and colors, the designers strive for simple and pure surroundings when selecting materials and color, such as white oak on the ground, white hexagon mosaic on the wall and luminous membranes of the ceiling. The whole warm-toned decoration not only makes consumers feel amiable and pleasant, but also highlights the dominance of desserts.
▲平面图 PLAN