项目 PROJECT_ 迷藏 HIDE & SEEK
功能 FUNCTION_ 培训学校 SCHOOL
设计周期 DESIGN PERIOD_ 2016.08-2016.12
建设周期 CONSTRUCTION PERIOD_ 2016.10-2017.01
地点 LOCATION_ 云南昆明 KUNMING, YUNNAN, CHINA
建筑面积 BUILDING AREA_ 1958SQM
团队 ARCHITECTS_ 肖磊 XIAO LEI, 金鑫 JIN XIN, 刘莹莹 LIU YINGYING, 施懿媛 SHI YIYUAN, 徐萌 XU MENG, 李京泽 LI JINGZE, 郑田昕 ZHENG TIANXIN
合作方 COLLABORATORS_ N/A
类型 TYPE_ 室内 INTERIOR
状态 STATUS_ 建成 COMPLETED
摄影 PHOTOGRAPHS_ 加纳永一 EIICHI KANO
阳光心霖公社是位于昆明市中心的一所私立培训学校。由于学校的学生年龄基本集中在充满好奇心的5至15岁,设计师希望能够打破常规学校庄严整齐的风格与布局,提供学生及老师更为有趣、充满探索性的使用空间。可以在交流共享的同时,又有一系列可供教学的私密空间。
HIDE & SEEK is a private training school in the downtown area of Kunming. Due to students' ages are generally between 5 and 15, the designer is aimed to create a joyful area to bring back a sense of intimacy and inspire children's curiosity, rather than a uniform and solemn general school. Moreover, it can offer a series of private environment for teaching while sharing and communicating.
设计师将教室、教研中心、办公室、咨询室等不同功能的空间看作是不同体量的"盒子",或大或小,或半开敞或全封闭,或下沉或"漂浮",从设计手法上充分挖掘每个空间的潜力。蜿蜒的木质通道串起了这些大小不一的"盒子",通道的宽窄变化中亦形成了不同尺度的空间体验,一目了然,引导着人们前行,也不再是刻板老套的课室排列方式,试图让孩子们之间有更多的交流和互动,激发每个孩子的天性。
The designer regards different function space as different "boxes",such as classrooms, research centers, offices, consulting rooms,and etc. Or large or small, or semi-open or completely closed, or sinking or floating. The design explore the potential as possible from every aspects. The inner wooden path makes the different sizes "box" become a whole part. On both the plane and the space, there is a staggered building shape, forming compounds of different scales on campus' experience. It's clear and unambiguous to lead people go ahead. Such interesting and friendly spaces, are interconnected to give the children an open, quiet and comfortable ambience, seeking to trigger their interaction and communication.
通道起始于办公室,随着台阶逐渐上升,进入到一个有高差的半平台区域,老师和学生可以在这片半开敞区域互动交流;延通道继续行进,面对走道的一侧,有一扇完全敞开的落地玻璃窗,让"盒子"内部的阶梯教室一览无余,保有了空间的通透性,增加了视觉上的延伸感,又不失空间层次感。通道设置了一排卡座,便于家长和客人在教室外进行课程观摩;继续前进则是通往二层办公室的楼梯,相反拾级而下则到达连接五间教室的小广场,使人流在此处聚集。五间教室的功能不一,有包括270度的弧面投影的环幕教室;花房与绿植结合的实验教室;多媒体互动的电脑教室,为宝宝班设计的圆形教室以及可进行分组讨论的辩论教室。
The inner path starts from office, and walking on the path, a completely open french window on the side of aisle so that there is an unobstructed view of the ladder room inside the "box". In addition, in the perspective of space, the box increases the visual sense of extension and makes space with richer level. Several rows of seats to facilitate parents and guests to observe the lessons outside the classroom. Then, a cross road leads to two directions. On the one hand, it leading to the offices on the second floor, on the other hand, a small square connected to five classrooms. Classrooms have various uses, such as a projection classroom with 270 degrees of arc,a experimental classroom with plan, a multimedia interactive computer classroom, a round classroom for babys and a debating classroom.
白色水磨石及白橡木贯穿于空间之中,宽敞明亮的空间和简约素雅的材料相结合,设计师希望通过简单的材质塑造空间,回归到最本质的状态,在建筑之外更加关注孩子本身与空间的联系,空间因孩子的个性而变得不同。
White terazazo and white oak was extensively used as the main materials which contribute to a simple and quiet atmosphere. The design wants to pay more attention to the relationship between the children and the whole space. Children can coulorful these classrooms at different times of the day.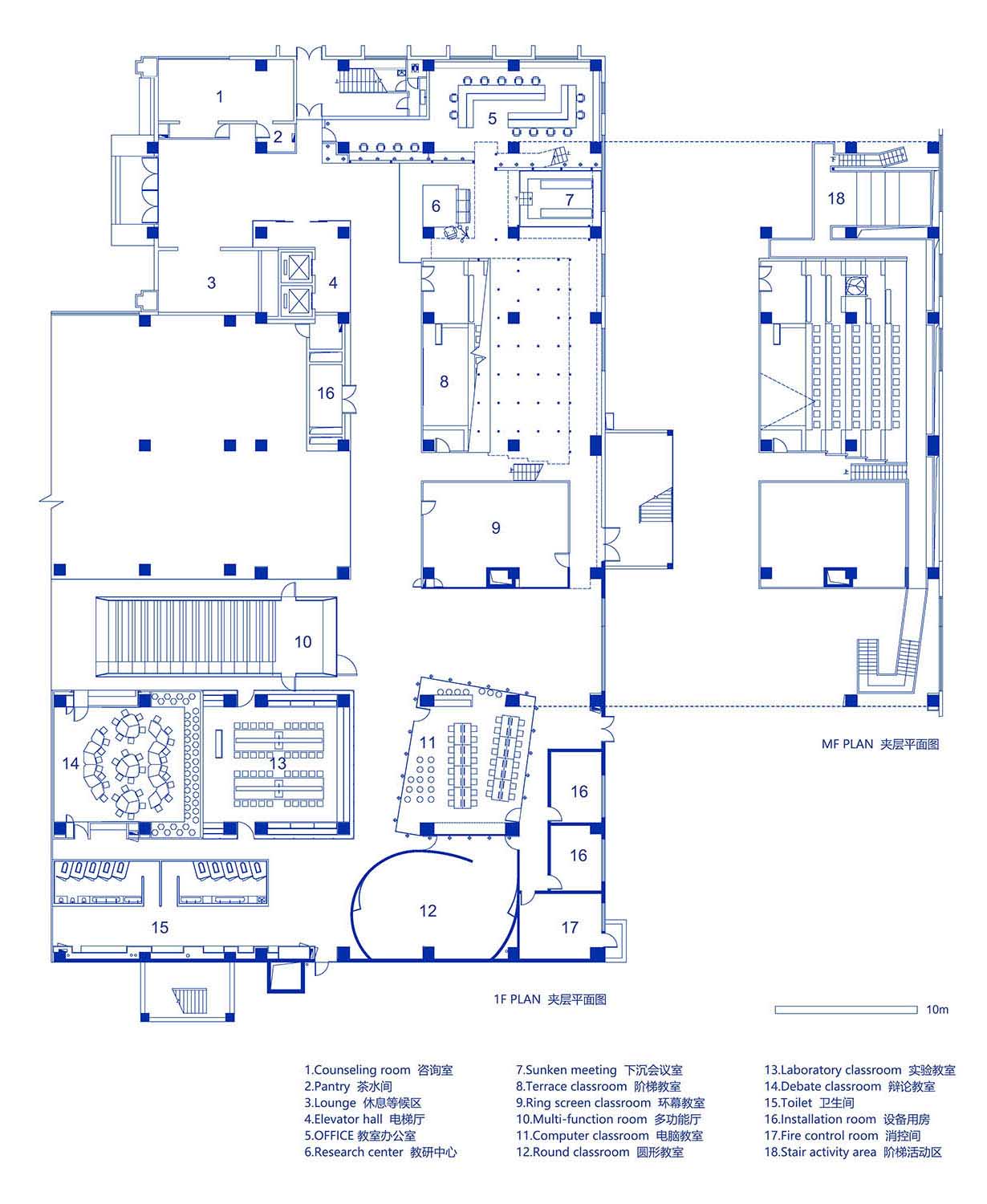 ▲平面图 PLAN

▲剖面图A SECTION A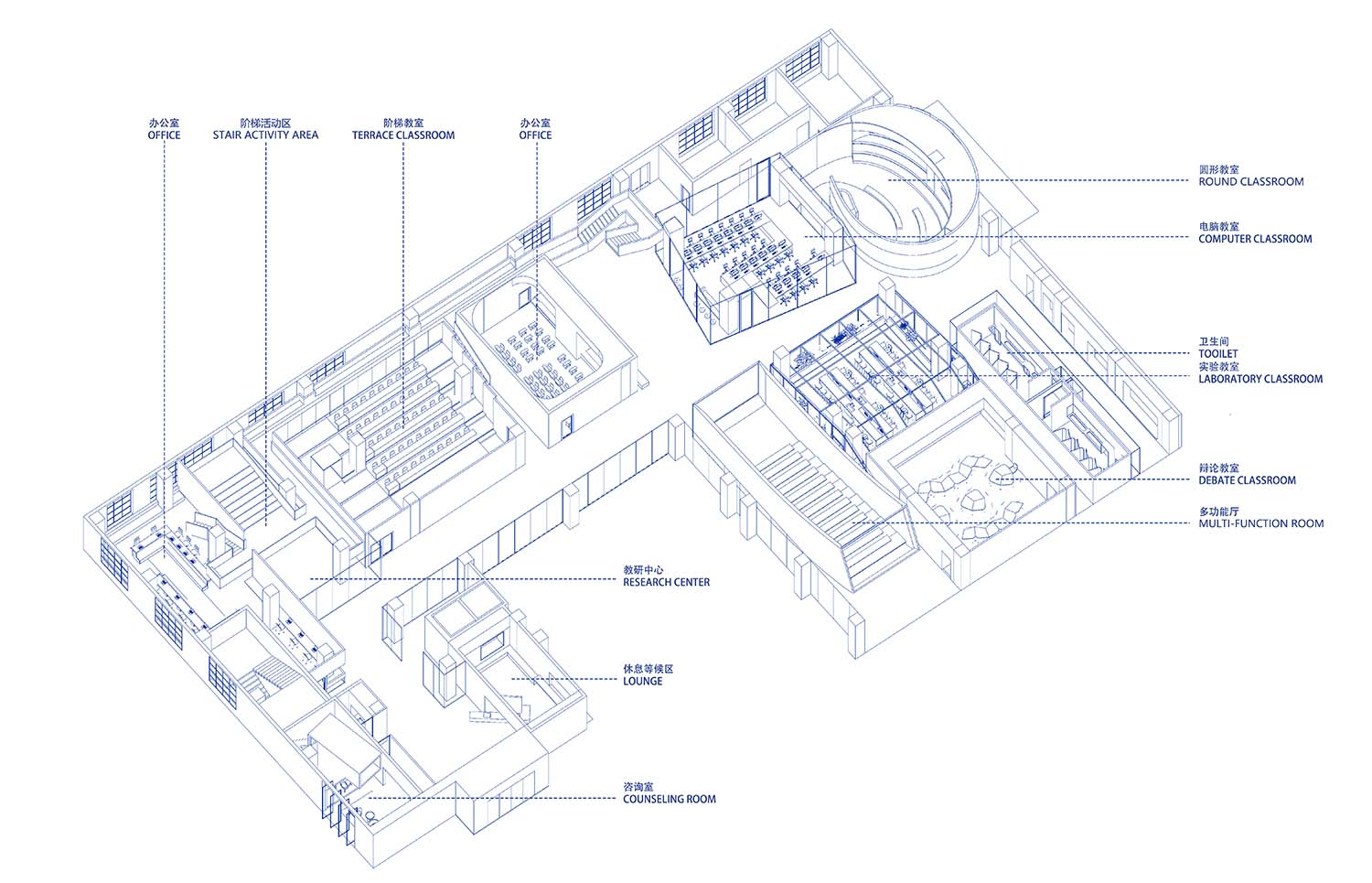 ▲轴测图 AXONOMETRIC