项目 PROJECT_ 围核 THE CORE
功能 FUNCTION_ 办公总部 HEADQUARTER
设计周期 DESIGN PERIOD_ 2015.8-2015.11
建设周期 CONSTRUCTION PERIOD_ 2015.11-2016.2
地点 LOCATION_ 上海浦东 PUDONG, SHANGHAI, CHINA
建筑面积 BUILDING AREA_ 5690SQM
团队 ARCHITECTS_ 肖磊 XIAO LEI, 金鑫 JIN XIN, PEDRO RUIZ MAZANO, 刘莹莹 LIU YINGYING, 潘佳霖 PAN JIALIN
合作方 COLLABORATORS_ N/A
类型 TYPE_ 室内 INTERIOR
状态 STATUS_ 建成 COMPLETED
摄影 PHOTOGRAPHS_ 加纳永一 EIICHI KANO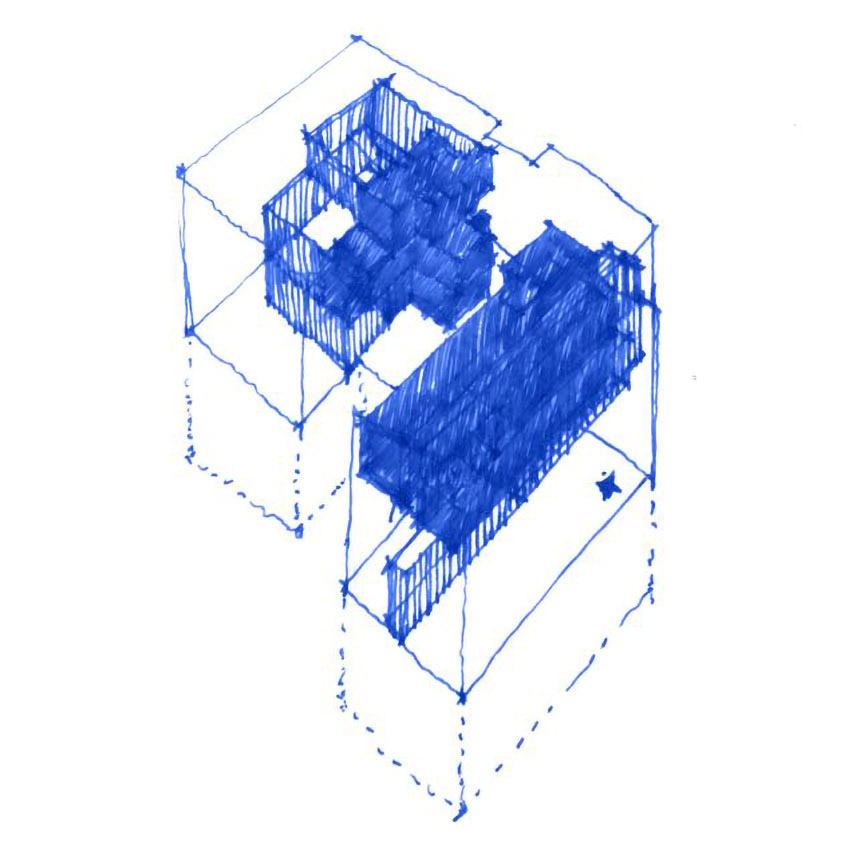 瑞典山高刀具大中华区的办公总部位于上海浦东的一个工业园区内,为一栋四层高的独立建筑。
SECO Tools Greater China's Headquarters is a four-storey individual building in an industrial park in Pudong, Shanghai.
该办公总部在需要容纳超过120人日常办公的同时,还将承载员工培训、中型会议、产品展示、休闲就餐及行业集会等功能。特别是在员工办公区域亦需要安置四种不同类型,总计28个中小型会议空间。如何将数量众多的不同功能空间进行有序的组织与放置是我们在这个项目最开始遇到的难点。
The headquarters needs to accommodate 120 people for daily work and enable them to have staff training, medium conference, product demonstration, leisure activity, dining and assembly. The office area specially needs four types, including 28 small and medium-sized meeting rooms. We got stuck at the very beginning of arranging and placing different functional spaces in an orderly manner.
1.概念-反向庭院 CONCEPT--REVERSE COURTYARD
以此为出发点,我们借鉴了中国传统内庭式建筑的层次关系,并将其反向,提出了"内实、中虚、外开"的设计概念。
Following lessons from China's traditional architectural style "inner court," the hierarchy is reversed to shape the model of "repletion inside, vacancy in the middle and openness outside."
在办公楼层,我们将储物、洗手间及垂直交通等功能放置在中间,用木材为主要材料的实体"盒子"将其与外部空间进行区隔。同时将员工办公区域设置在楼层内的外围有窗空间,以获得最佳的采光,整个工位区接近全部开敞,符合业主的日常办公习惯。
In the office building center, the functional zones of storage room, restroom and vertical channel separate them from the external space by placing tangible wooden "boxes". Meanwhile, these spaces are surrounded by an office area with windows letting enough sunshine in. The whole zone is nearly unrestricted to meet the users' daily working habits.
而在开敞区域与实体盒子之间,我们用木隔栅和玻璃做为主要材质,形成了多个隔而不断的虚空间,作为会议与交流的半私密区域。我们通过这三个区域的设计,将繁杂的功能空间进行了有效的梳理和归类,同时也很好的保证了各个空间之间的流通性。
As wooden fences and glass partitions divide several separate and continuous void rooms for meetings and private exchanges among open zones and boxes, complicated sectors are fitted into place to ensure good mobility to each other by designing three spaces.
2.细节-系统与可变 DETAIL-INTEGRITY AND VARIABILITY
为了使开敞的工位区也能满足不同使用者的需求,我们结合建筑现有开窗设计了一个多功能系统,包含了储物、绿植、书架、卡座、茶几、隔音椅等部分,系统内物件可针对不同部门和区域进行增减。同时吊顶的设计也借鉴了该系统的模式,增加了空间在纵向上的延伸感。
To meet user demand in an open area, we develop existing windows into a multifunctional system integrating storage, green plants, bookshelves, seats, tea tables and soundproof chairs and accommodating the needs of all departments and zones properly. Also, the design of suspended ceiling imitates the corresponding modules, hence upwardly extending the inner space.
四楼的空间相较于办公楼层在功能上更偏重于休闲和会议,我们在延续了办公楼层以材质进行分区的概念的同时,更加注重了不同功能区块之间的沟通,营造了几处可变空间,更为方便甲方举办各种活动的需求。
The fourth floor focuses on leisure activities and meetings, so the designer continues to zone the office area in line with texture to enhance mutual communication. Also, several variable spaces are expanded for Party A's group gatherings.
例如在多功能展示区,我们放置了一个可以坐50人的大台阶,结合投影与实物展台,可满足公司小型展览演讲的需求;然而当使用需求改变时,通过调整可移动家具,打开或闭合部分空间,同一空间即可变为沙龙或派对的举办场所。
For instance, in the multifunctional exhibition zone, we built a big stairs seating 50 persons. Being equipped with projector and stalls, it is fully enough for small exhibitions and speeches. If needed, you can recombine the furniture for any open or closed spaces. In just one minute, a salon or party place is ready.
最终,我们通过"分层、整理、变形"这三个概念的引入,将这个仅六千平米的空间设计的层次丰富且灵活实用。
At last, with three ideas of "layering, placing and reshaping" introduced, you will have a multi-layered, flexible and practical area of 6,000m2 through ultimate space design.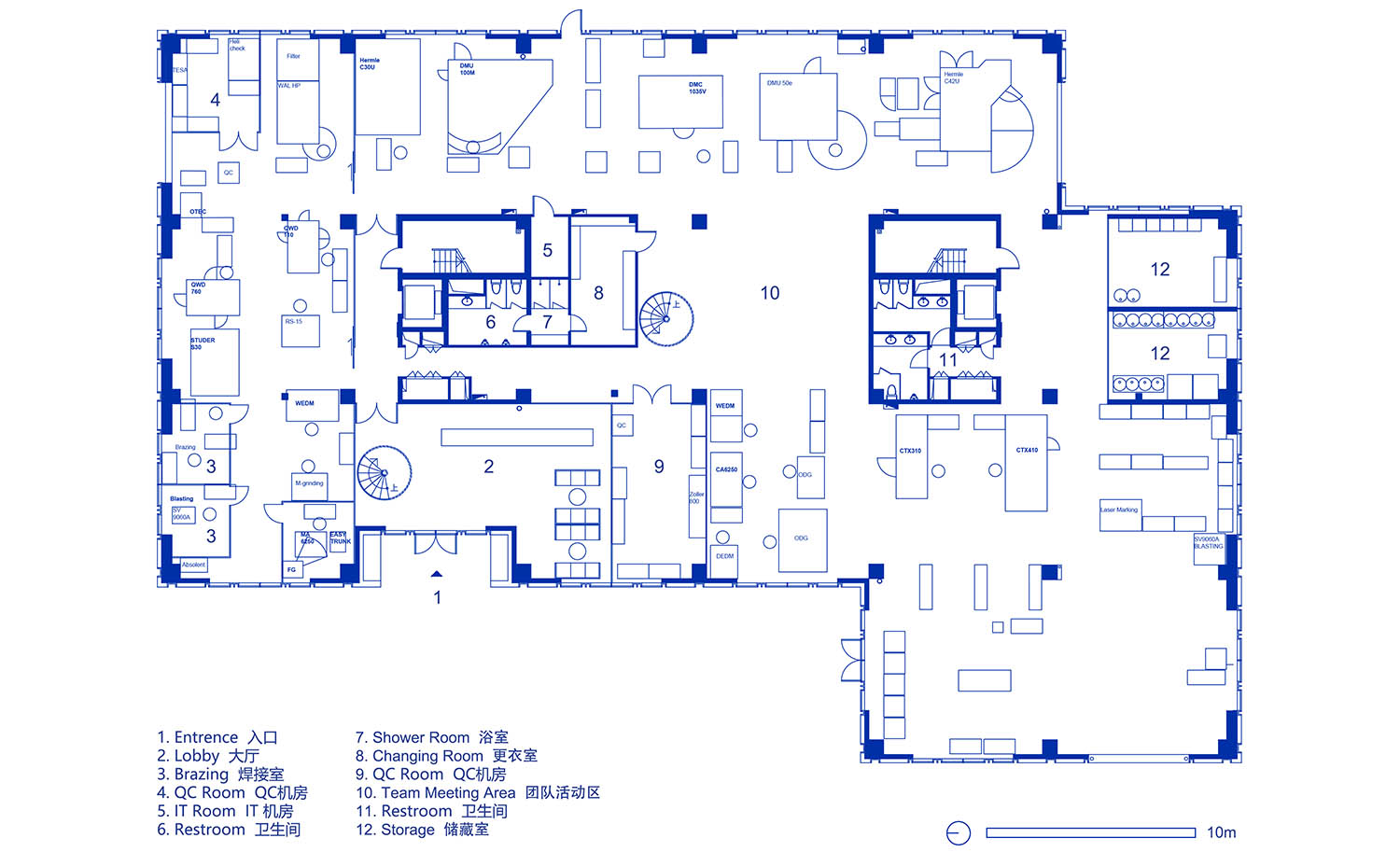 ▲一层平面图 1F PLAN
▲夹层平面图 MF PLAN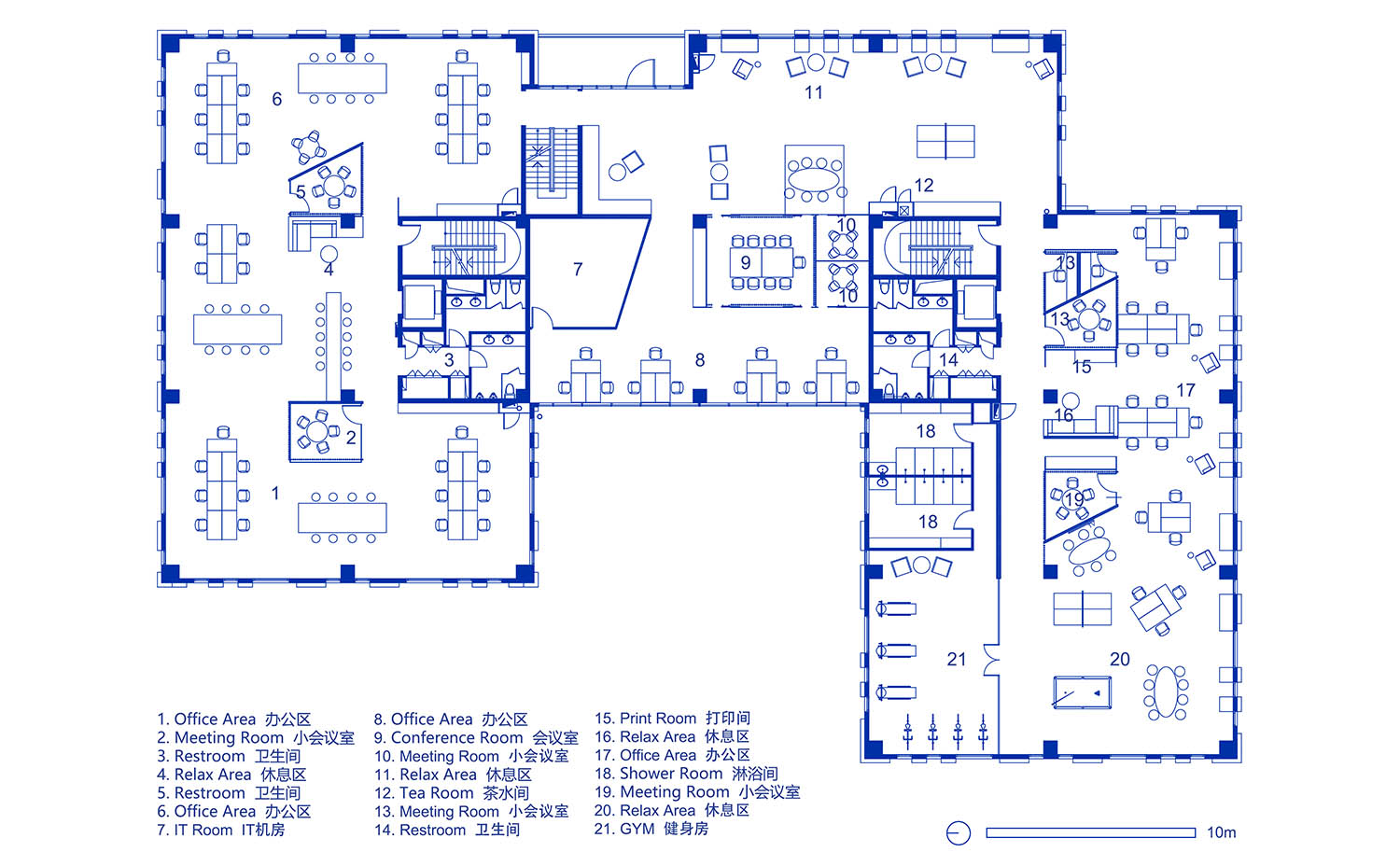 ▲二层平面图 2F PLAN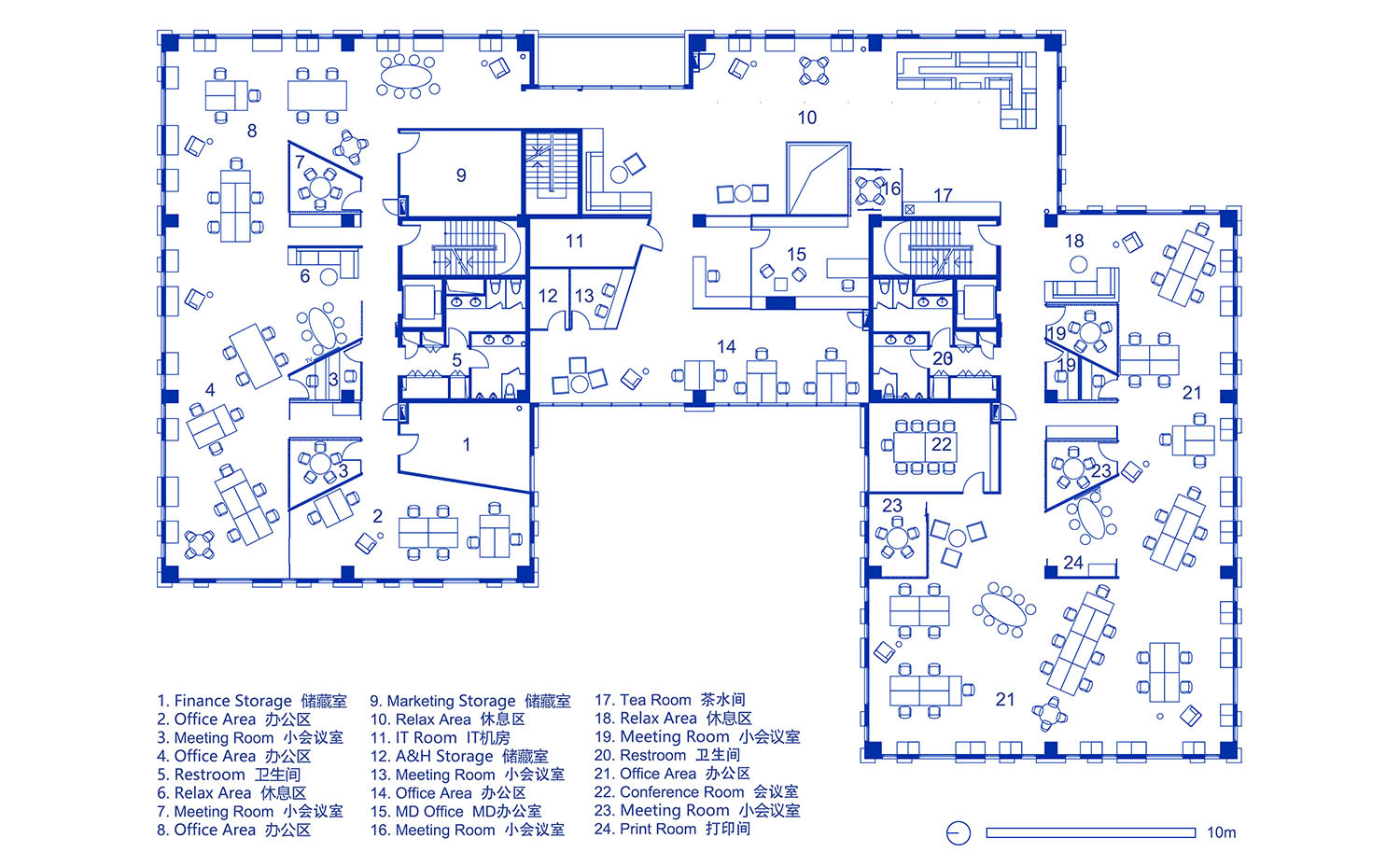 ▲三层平面图 3F PLAN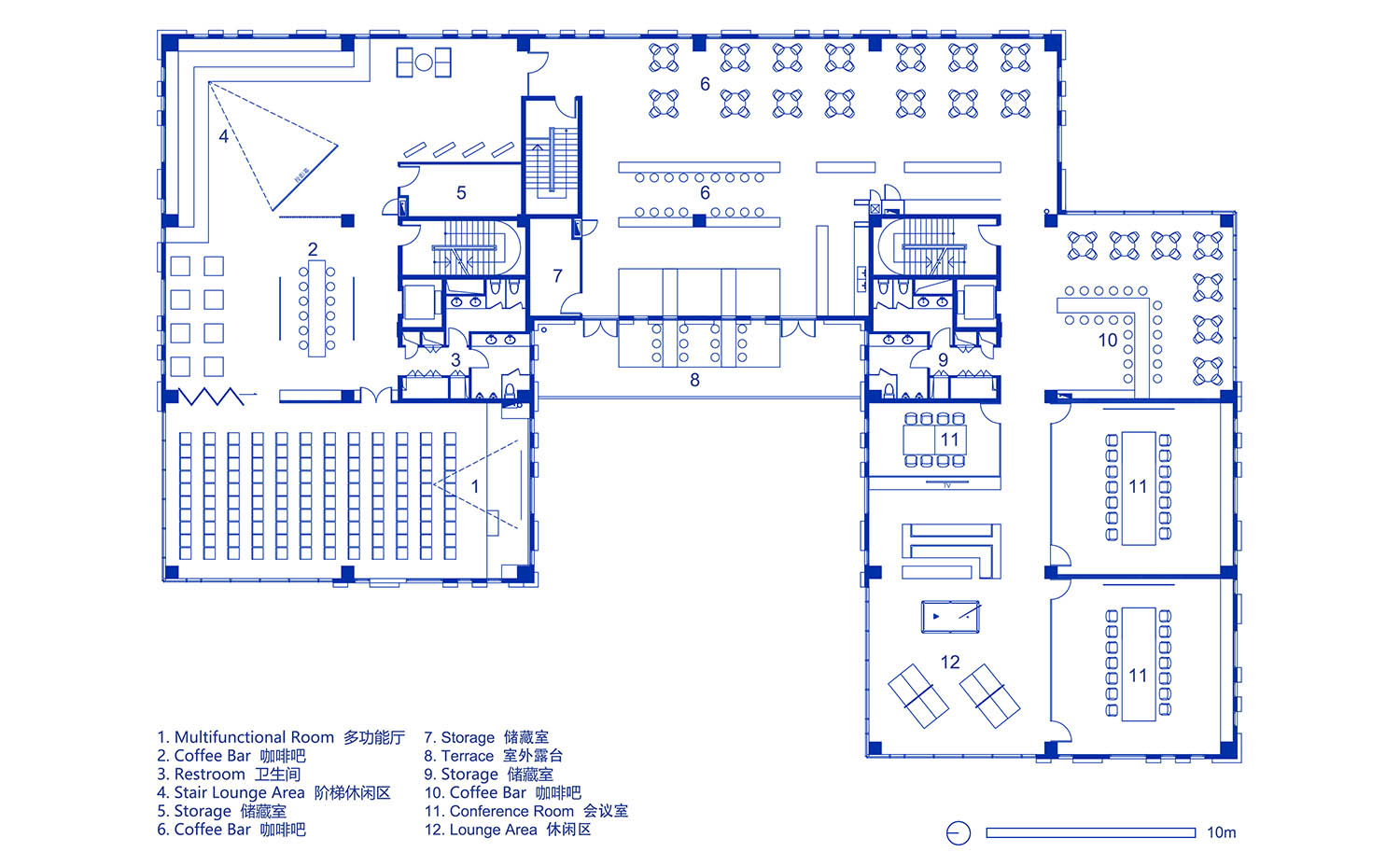 ▲四层平面图 4F PLAN