项目 PROJECT_ 透视 THE OFFICE OF PERSPECTIVE
功能 FUNCTION_ 办公 OFFICE, 展示 EXHIBITION
设计周期 DESIGN PERIOD_ 2018.06-2018.10
建设周期 CONSTRUCTION PERIOD_ 2018.10-2019.02
地点 LOCATION_ 广东广州 GUANGZHOU, GUANGDONG, CHINA
建筑面积 BUILDING AREA_ 1832SQM
团队 ARCHITECTS_ 肖磊 XIAO LEI, 刘莹莹 LIU YINGYING
合作方 COLLABORATORS_ N/A
类型 TYPE_ 室内 INTERIOR
状态 STATUS_ 建成 COMPLETED
摄影 PHOTOGRAPHS_ 邵峰 SHAO FENG
万科南站项目位于广州市番禺区,临近广州南站。它是万科世博汇园区内众多新建办公楼中的一栋高层样板楼,我们负责6楼的室内空间设计。
THE OFFICE OF PERSPECTIVE is located in Panyu District, Guangzhou, close to the Guangzhou South Railway Station. It is a high-rise model building among many new office buildings in the Vanke World Expo Park, and we are responsible for the interior design of the 6th floor.
对于新型办公空间的探索中,我们尝试以"层"为题,在隐与显、明与暗之间,分与合、规整与变化之间,平衡开放与私密的需求。在空间流动下的层叠之中,赋予未来使用者更多的可能性。
In exploring the new office space, we try to use the "layer" as the title to balance the needs for openness and privacy between concealment and exposure, lightness and darkness, division and integration, and regularity and change. More possibilities are offered to the future users via the cascading of spatial flow.
6楼的原始状态为:只有交通核、井道在内的三个整齐排列在中央的实体结构。于是在空间设计上,放大现有的序列,并将实体结构延伸成一个个灯箱,并嵌入"木盒子",其中穿插或散落几个地灯环绕的"玻璃盒子",通过"木盒子"、"玻璃盒子"形体连续又富有韵律感的组接与排列,重组了剪力墙与井道密布的区域,形成了对私密性要求严格的办公区及开放空间。再结合接待区与办公休闲区的布置,营造了自然、积极、高效、专注,并有归属感的办公氛围。
The initial state of the 6th floor: there are only three physical structures neatly arranged in the center, including the traffic core and the hoistway. So in the space design, the existing sequence is enlarged, and the physical structure is extended into individual light boxes and embedded in a "wooden box," in which a "glass box" is surrounded by several interspersed and scattered ground lamps, through a "wooden box"; by means of continuous and rhythmical assembly and arrangement of the "wooden box" and "glass box," the area with dense shear walls and hoistways are reorganized, forming an office area and an open space that have strict in privacy. Combined with the arrangements of the reception area and the office and leisure area, it creates an office atmosphere that is natural, active, efficient, focused and has a sense of belonging.
在空间布局上,该设计在创建最大化空间灵活性的同时,也避免了各功能区之间的相互干扰。
In the perspective of a spatial layout, the design avoids mutual interference among the functional areas while creating maximum spatial flexibility.
在材质的处理上,主要选择对比明显的木材和水磨石。水磨石搭配发光的磨砂玻璃,形成主要的交通空间。其中穿插的"木盒子"与"玻璃盒子"作为功能体量被独立使用。
In terms of materials processing, wood and terrazzo with obvious contrast are selected. The terrazzo, together with glowing frosted glass, forms the main traffic space. The interspersed "wooden box" and "glass box" are used independently as functional structures.
在室内装置的设计中,我们与专业的画廊合作,根据设计概念而定制。在设计上,以"光之隧道"为主题,射灯点缀的艺术装置与室内相得益彰。
In the design of indoor installations, we work with the Brownie Galleries and customize them based on the design concept. With the theme of "Tunnel of Light", the art installations are designed with spotlights to complement the interior.
▲平面图 PLAN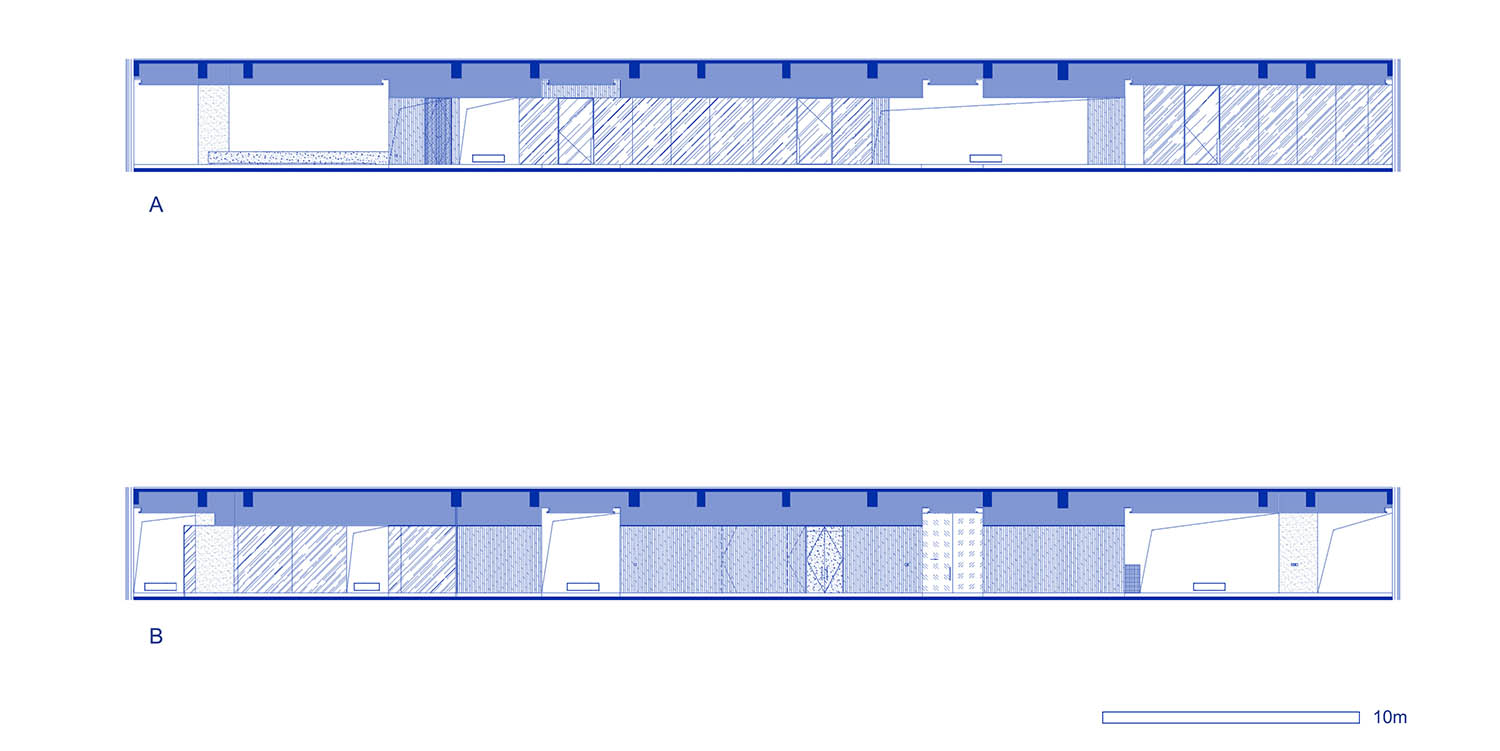 ▲剖面图 SECTION