项目 PROJECT_ 月沨 LUNA SPA & HOTEL
功能 FUNCTION_ 酒店 HOTEL
设计周期 DESIGN PERIOD_ 2017.12 -
建设周期 CONSTRUCTION PERIOD_ 2018.05 -
地点 LOCATION_ 广东恩平 ENPING, GUANGDONG, CHINA
建筑面积 BUILDING AREA_ 13470SQM
团队 ARCHITECTS_ 肖磊 XIAO LEI, 滋埜悠司 SHIGENO YUJI, 郭芷羚 GUO ZHILING, 金鑫 JIN XIN, 刘莹莹 LIU YINGYING, 王晗 WANG HAN, 李卓灵 LI ZHUOLING, 李思仪 LI SIYI
合作方 COLLABORATORS_ 和作结构建筑研究所 / 张准、张冲冲、陈学剑 AND OFFICE / ZHANG ZHUN, ZHANG CHONGCHONG, CHEN XUEJIAN
类型 TYPE_ 建筑、室内及景观 ARCHITECTURE, INTERIOR AND LANDSCAPE
状态 STATUS_ 建设中 UNDER CONSTRUCTION
摄影 PHOTOGRAPHS_ TEAM_BLDG
该项目位于广东省恩平市的山区,毗邻369省道,周围水系环绕。该地区拥有丰富的自然温泉资源,业主希望将这一特色融入本项目,作为温泉酒店及会所的核心功能,同时希望前来的客人可以拥有一次难忘的体验。
The project is located in the mountainous area of Enping, guangdong province, adjacent to 369 provincial highway and surrounded by water system. This area has abundant natural resources of hot spring. The client asks to integrate this feature into this project as a core function of the hotel and club,and at the same time hopes guests can have an unforgettable experience.
因项目选址位于山体之上且两面环山,因此建筑与山体的关系成为了设计的主要切入点。利用原有的自然环境及得天独厚的地理位置,我们希望酒店能够引人注目且成为这里别具一格的地标性建筑。我们将最需要景观视野的功能空间——客房,根据山体等高线将其呈梯级横向布置,一侧由山体向外出挑,并依次旋转一定角度使每层客房都可获取不同的视野。其他公共区域则以地景建筑的形式置于山体下方,最大化地与山体融合。
Due to the site which is on the mountain and surrounded by mountains, the relationship between the building and the mountain has become the main concept of design. We set volumes of guest room horizontally, which have high requirement of views. The guest rooms are overhanging from the mountain and rotated with fixed angle in order to make every floor have various views. Other public functions are placed below the mountain in the form of a landscape architecture.
为了强化体验性,我们将基地原有低洼的平地改为人工湖,并在靠近主干道的位置设立标志性渡口作为酒店接待处,住客可在此乘船至内部的码头,并通过缓缓上升的山坡进入酒店大堂,倒影缱绻在水中,仿佛进入旧画卷般的感觉。作为引导过渡的入口也不会刻意制造出距离感,当行走在广纳大自然气息的坡道上,更添了一丝曲径通幽的趣味。整个建筑以一种温和的方式回应自然,融于自然。酒店部分的公共空间均埋于地下,是根据高差呈阶梯状排布,并由一整片斜顶覆盖形成的巨型洞穴,功能包括了大堂、大堂吧、餐厅、公共温泉、书吧等。凸出山体的客房为27间普通客房及6栋复式别墅,每一间都有独立的泡池。每当夜幕降临,满天星辰,呼吸着山间清润的空气,住客可以享受泡澡沐浴时的野趣。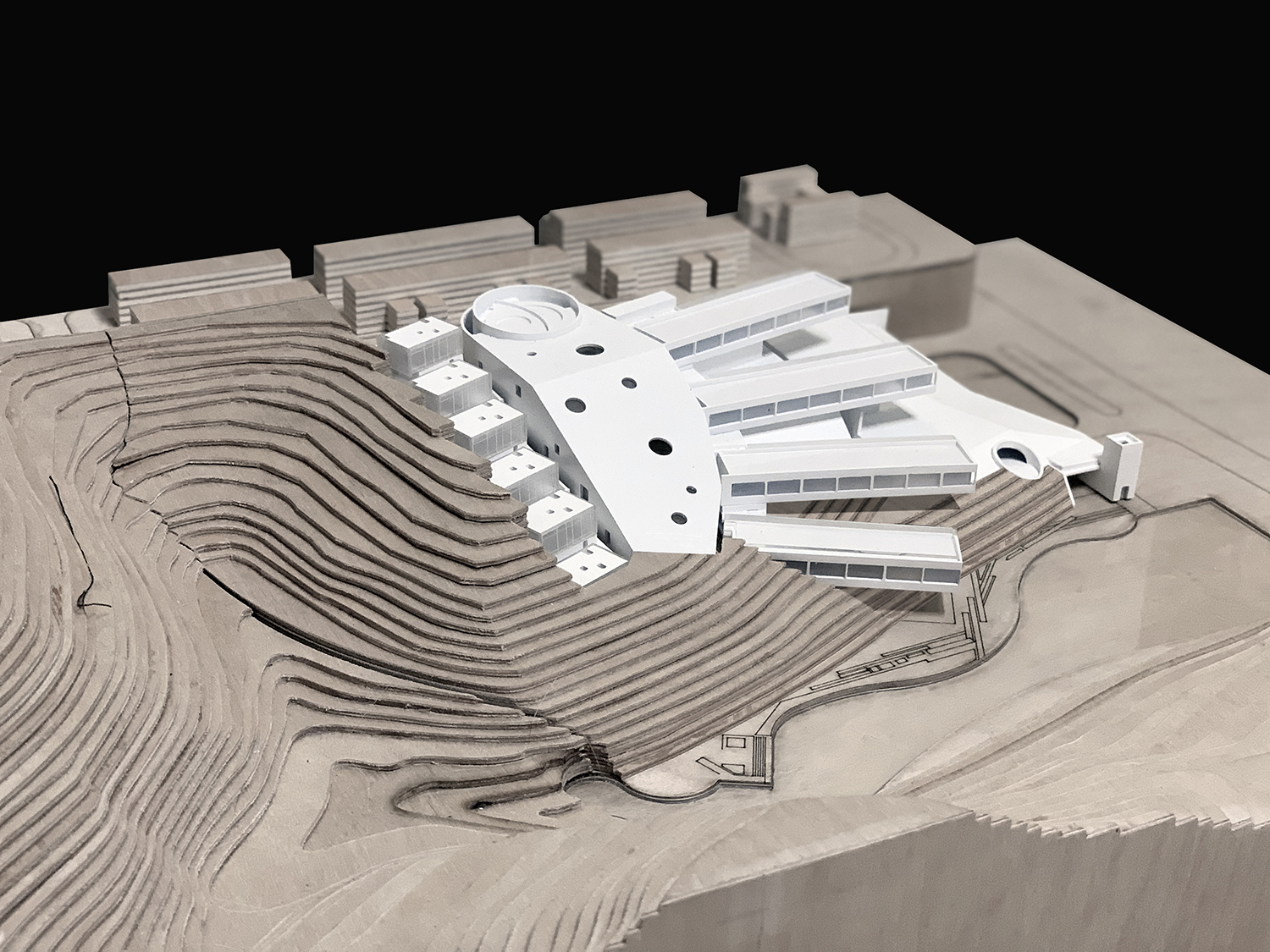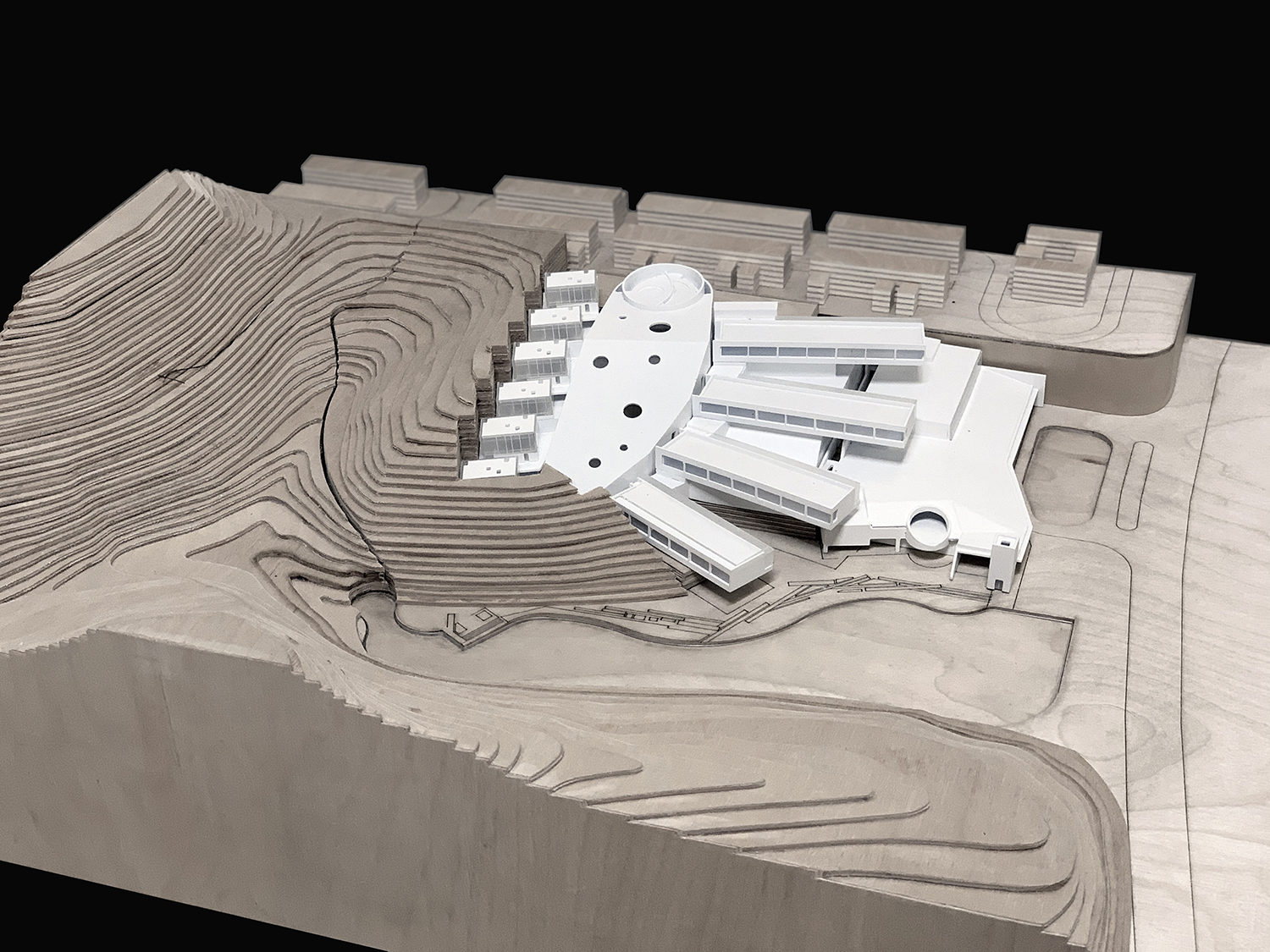 In order to highlight the experience, we set an artificial lake that was a low-lying land in front of hotel and club. A symbolic ferry is set near the main road as a reception space for hotel. Guests can take a boat to another deck and walk to the lobby through a slope. At the entrance gives figures a view of the old picture. The entrance provides a vague scene of the internal space with the flavor of nature. The whole building responds to nature in a mild way and integrates itself with nature. The public spaces of hotel are underground arranging by height difference that is formed a huge cave covered by a giant slope roof with functions of lobby, lobby bar, restaurant, public hot spring, books, etc. The buildings of guest room that bulge out of the mountain are 27 standard rooms and 6 double floor building, and each room has independent hot spring bath. When the night falls, every guest can enjoy the natural experience with stars and fresh air.
同时住客通往客房的动线也是从山体内部走向山体外部的一个过程。会所部分整体为地景建筑,内部由不同的功能体块穿插,包括宴会厅、洽谈中心、泳池、SPA以及公共温泉等功能,面向公众的同时,也作为酒店的配套服务,住客可由山间的景观步道由酒店通往会所。在会所的餐厅内,有一扇面向群山的大窗户,无论四季如何变幻,坐在室内遥望满山景色,喝上一杯咖啡,也不失为一种情趣所至。
Moreover, Guests can experience from the inside cave to the outside space when they walking to the room. The space of club is landscape architecture with various functional boxes inside including banquet room, conference center, swimming pool, SPA and public hot springs. These functional spaces are not only open to the public, but also as supporting facilities connecting with a landscape path to guests who live in hotel. No matter how four changes, the sitting room overlooking the mountain scenery, drink a cup of coffee, and enjoy the peace.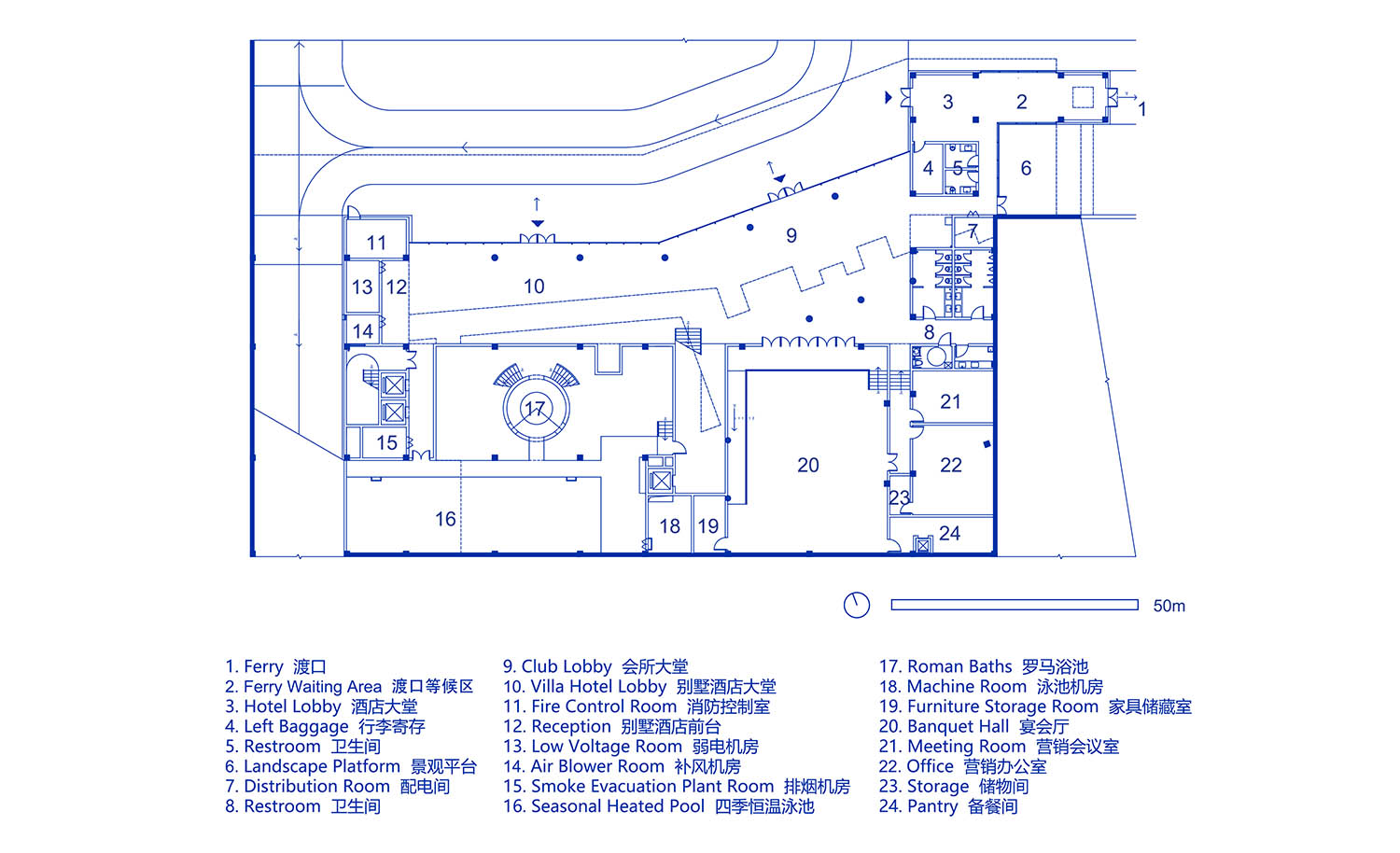 ▲一层平面图 1F PLAN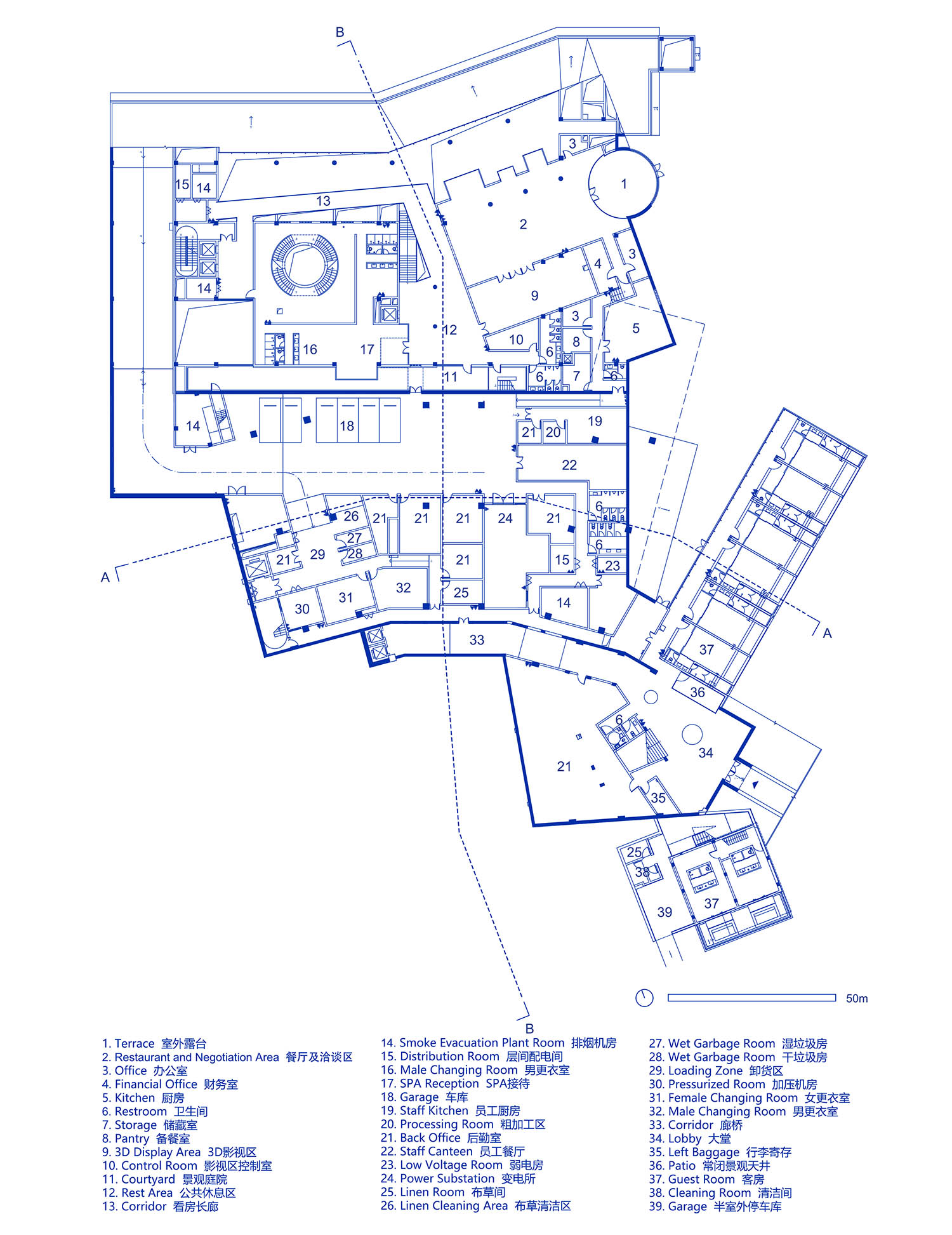 ▲二层平面图 2F PLAN
▲三层平面图 3F PLAN
▲四层平面图 4F PLAN
▲五层平面图 5F PLAN
▲层顶平面图 RF PLAN

▲北立面图 NORTH ELEVATION
▲东立面图 EAST ELEVATION
▲剖面图A-A SECTION A-A

▲剖面图B-B SECTION B-B