项目 PROJECT_ 焙廊 THE BAKER'S GALLERY_SUZHOU
功能 FUNCTION_ 烘焙店 BAKERY
设计周期 DESIGN PERIOD_ 2015.7-2015.11
建设周期 CONSTRUCTION PERIOD_ 2015.11-2016.3
地点 LOCATION_ 江苏苏州 SUZHOU, JIANGSU, CHINA
建筑面积 BUILDING AREA_ 327SQM
团队 ARCHITECTS_ 肖磊 XIAO LEI, 金鑫 JIN XIN, GIACOMO VOLPE, PEDRO MANZANO RUIZ
合作方 COLLABORATORS_ N/A
类型 TYPE_ 室内 INTERIOR
状态 STATUS_ 建成 COMPLETED
摄影 PHOTOGRAPHS_ MOG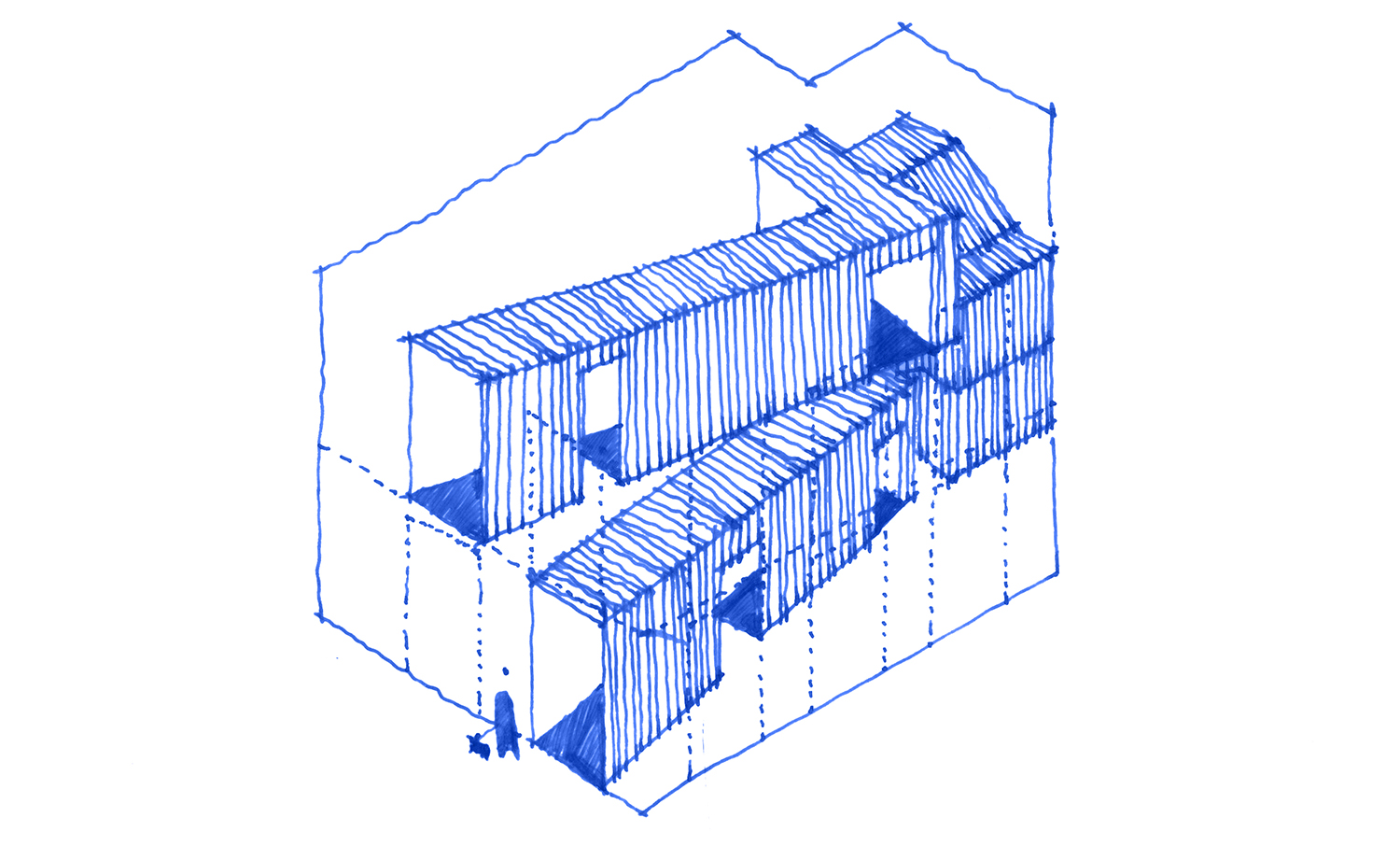 礼颂至品旗舰店位于苏州诚品书店转角处,共两层,沿街是两条主干道,有着极佳的展示面。诚品的建筑立面沉稳、厚重,且不允许改动,要如何使人从外部能感知到内部空间,并吸引路过的人走入礼颂至品,成为了此次烘焙店设计的主要出发点。而为顾客提供一个新颖、不失趣味,同时又不突兀、令人安心的购物体验亦是我们设计的主要目的。
Rizon Flagship Store, at the corner of Suzhou Chengpin Bookshop, is a two-storey building and faces two high streets with all-right exhibition areas. As the building elevation is calm, dignified and not allowed to be changed, designers have to find a solution of featuring inner space at the first sight of the exterior and attracting passersby to walk into Rizon. Our design is intended to have consumers feel novel, interesting, cozy and reassured when shopping.
店面层高5.5米,单层面积约160平方米,我们通过在一层与二层置入相互交错的体量,分割空间的同时又能与两个主界面的落地窗对话。体量的材料我们选用了聚碳酸酯板材,利用其透光性,使体量呈现出轻盈的状态,成为能发光的盒子。为了加强空间的纵深感,我们压缩"发光盒子"内侧的高度,使其呈楔形。"发光盒子"半透明的体量与原建筑厚重的状态产生了有趣的对比,让人在建筑之外就能感受到内部空间的秩序与变化,并能直观看出上下两层的联系。而走入其中时,室内柔和的色调和通透的质感更能衬托出礼颂产品的琳琅满目和精美品质。
The whole shop is 5.5m high and covers 160m2. The two floors are staggered to divide the space and ensure the communication between bakery and consumers through two French windows. To introduce more lighting and lighten structures, the designers developed a shining box with makrolon plate. To deepen space lengthways, the "shinning box" is shortened inside and transformed into a wedge shape. Translucent "shining box" goes with serious architectural appearance to spur a funny contrast, thus bringing guests outside into a world of order and change and directly finding a connection between two layers. When walking into the shop, all kinds of desserts on the shelves that are under soft and transparent hues look more delicate and palatable.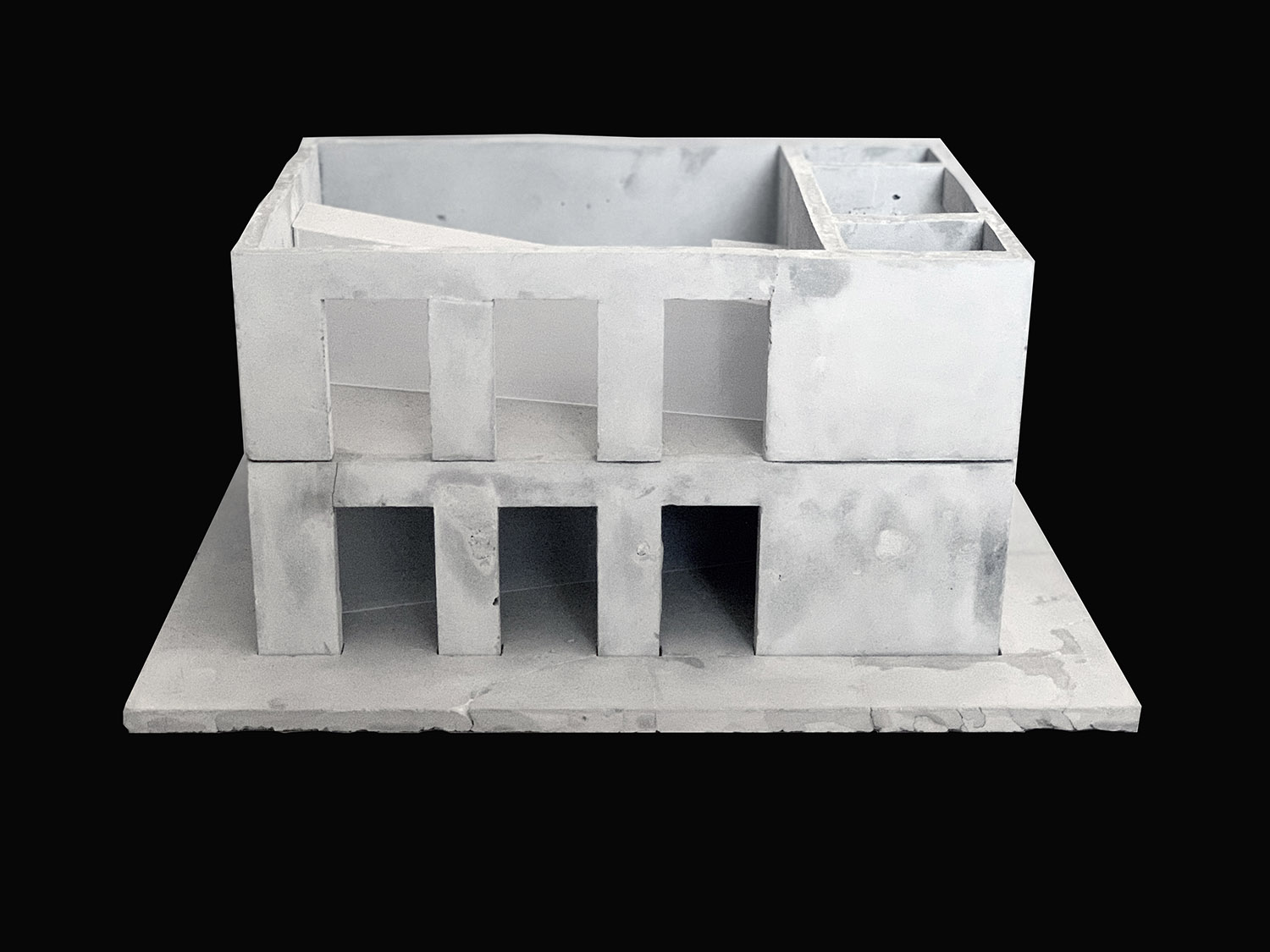 两层的烘焙店包含了面包售卖、蛋糕售卖、水吧、客座区、裱花展示区及厨房后勤区等诸多功能。一层的"发光盒子"将蛋糕售卖区以及水吧统一,人们可以通过短面窗户看到体量内部的正在工作的店员,也可以从长面看到透过板材移动的剪影。由"发光盒子"分割后的两个空间则是自选面包售卖区与客座区。
The two-storey shop is divided into several zones for breads, cakes, drinks, seats, decorations and cooking. The "shining box" on the first floor contains two divisions of sales floor and water bar, where guests can view the bakers working through horizontal windows or dynamic shadows through the vertical window. Two individual spaces are separated by the "shining box", where consumers can select what they like or have a seat.
楼梯作为连接上下的垂直交通,采用与体量一致的聚碳酸酯板材,使其成为一体,进而使上下空间更为连贯,引导客流更为自然的走上二层。二层主要以体量区分厨房后勤与客座区,体量本身则为裱花展示区以及较为开放的吧台区。同样延续了一层"发光盒子"与更为开放的休闲客座区的"对话",相映成趣。
The stairs connecting two floors is also decorated with makrolon panel, being an integral part of the building and naturally guiding consumers to go upstairs. The second floor has a cooking area and tables of different sizes for decoration and open bar, respectively. Meanwhile, the design of the "shining box" is followed to have a talk between servers and guests.
人们在空间中游走时,时而在体量的外部与店员打交道,时而在内部垂直穿梭,时而又能坐在其中间享用餐点,时而又能看到裱花间里的一切……
Rambling in the shop, guests can have a chat with the servers, have a taste of the desserts or view bakers making patterns on the cakes...
一系列外部与内部的感官体验、内部与内部的功能联系、顾客与空间的多样交织,丰富场景的同时,又使得空间更加生动、立体。
As a sentimental experience, a functional connection and frequent interaction between consumers and space are woven to construct a diversified surrounding, the space becomes more vivid and dynamic.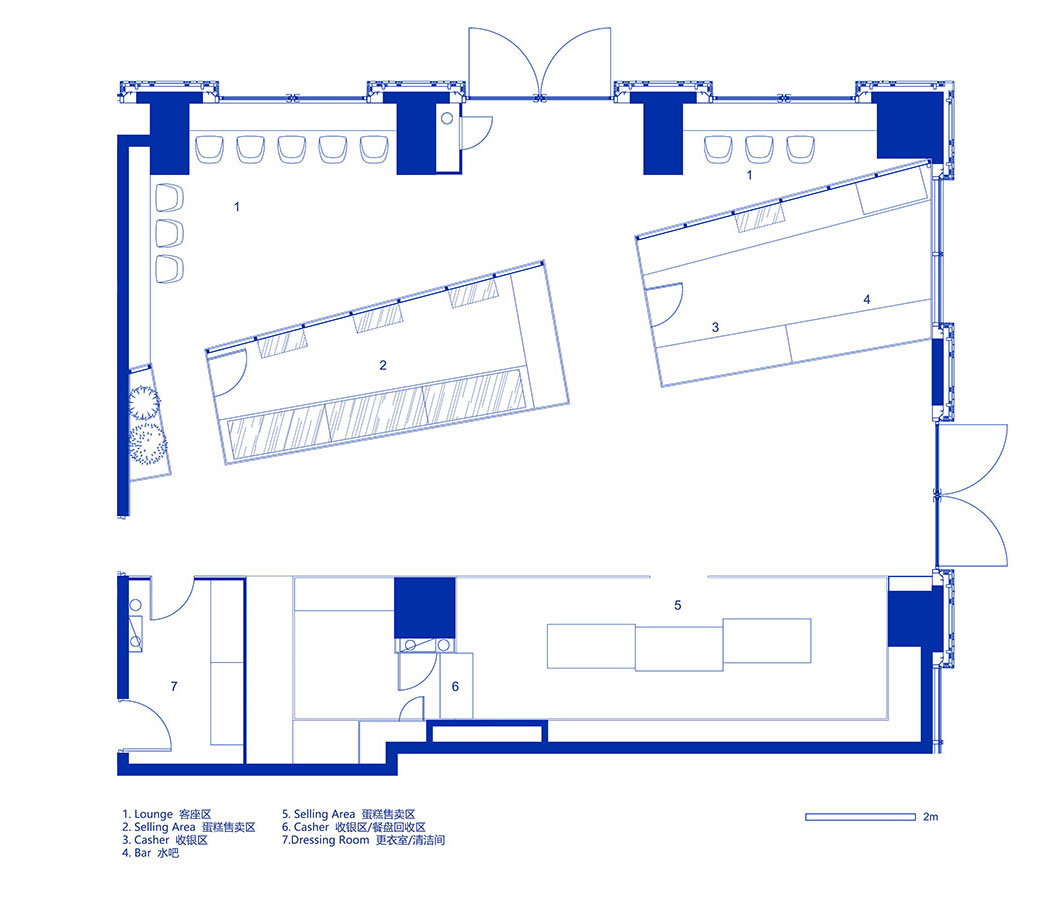 ▲一层平面图 1F PLAN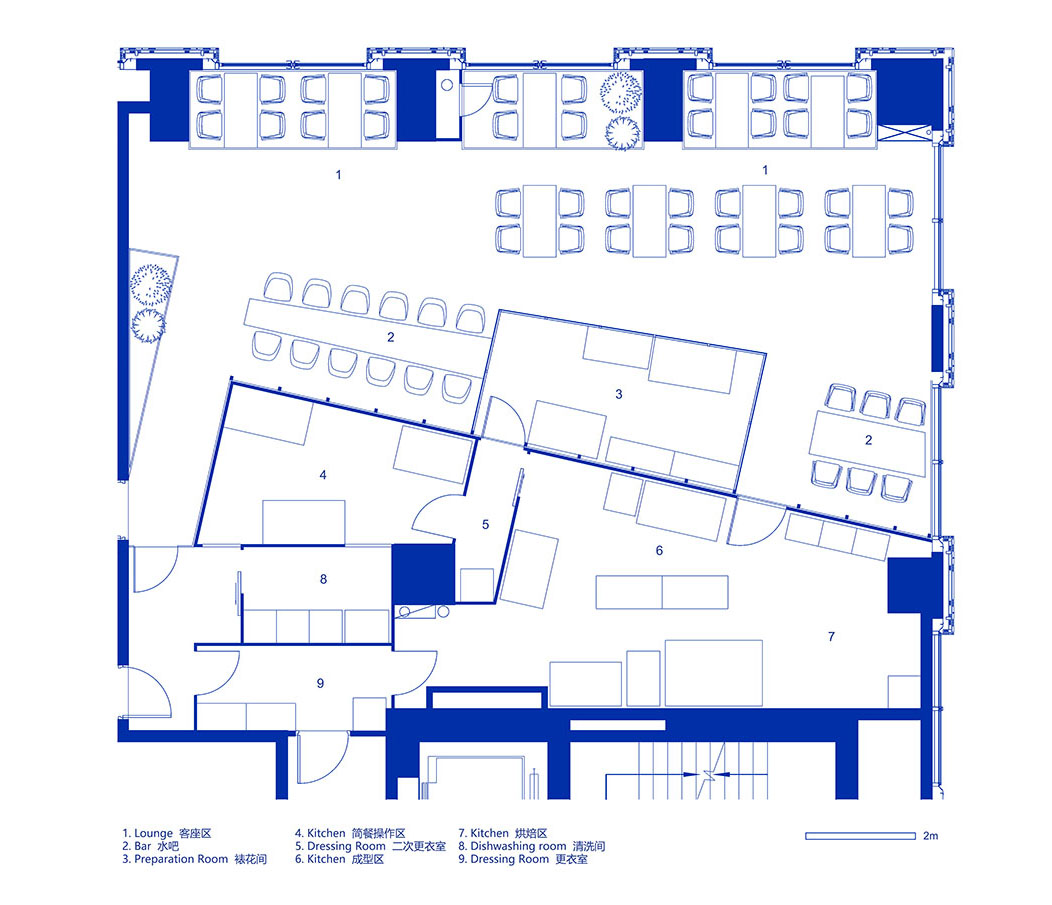 ▲二层平面图 2F PLAN